작가 우순옥, 김수자, 제니홀져, 제 9회 광주비엔날레 <라운드 테이블> 참여 | KUKJE GALLERY
작가 우순옥, 김수자, 제니홀져, 제 9회 광주비엔날레 <라운드 테이블> 참여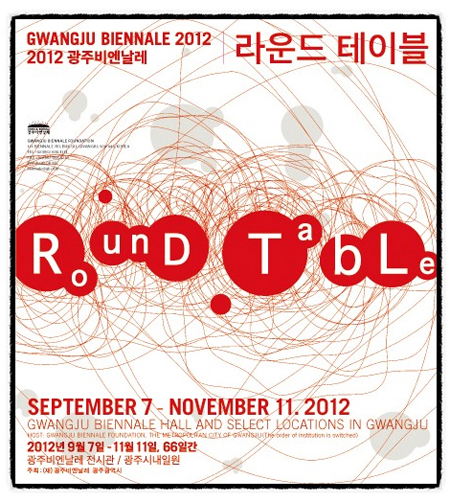 * 전시: 2012 광주 비엔날레
* 부제: 라운드 테이블
* 기간: 2012년 9월 7일 – 11월 11일
* 장소: 광주 북구 광주비엔날레 전시관 등
* 관련사이트:
http://www.gwangjubiennale.org/?mid=main_ver2
* 개요:
2012년 제 9회 광주비엔날레에 우순옥, 김수자, 제니 홀져 작가가 참여한다. 6명의 공동감독들은 '라운드 테이블'을 주제로 지난 1년 동안의 연구를 거쳐 40개국의 92명의 참여 작가들을 선정하였으며, 특히 기존의 미술경향이나 주류적 태도를 버리고 동시대의 문화적 다양성과 자주성에 뿌리를 두고 작업해온 작가들에 주목하였다.
제 9회 광주비엔날레는 '라운드테이블'을 주제로, 정보사회가 가져온 동질화의 문제와 빠른 속도로 변화하고 있는 세계 곳곳의 상황들을 반영하는 다양한 담론들을 시각적으로 펼쳐낼 예정이다. 특히 이번 비엔날레는 역대 비엔날레보다 양적, 질적으로 많은 시민 참여 및 연계 프로그램을 준비하고 있다. 아시아에서 가장 오래되고, 아시아의 대표적인 비엔날레인 광주 비엔날레는 오는 9월 7일에 시작하여 11월 11일까지 계속된다.
Kuke Gallery is pleased to announce that U Sunok, Kimsooja and Jenny Holzer will participate in the 9th Gwangju Biennale (September 7 – November 11, 2012). The Gwangju Biennale Foundation states 'ROUNDTABLE' as the theme of the 9th Gwangju Biennale. The team of six co-artistic directors appointed to organize the upcoming biennale have chosen 'ROUNDTABLE' as a theme to explore the possibility of democratic and non-hierarchical exchange concerning global cultural production, through various forms of collective endeavour, research into historic entanglements among societies, and the exploration of diverse contexts of belonging. In a statement, the co-artistic directors have said, 'ROUNDTABLE' allows us to reflect on our shared contemporaneity at a time when the tremendous momentum of ecological, political and economic change has radically transformed our global reality. 'ROUNDTABLE' will consist of diverse programs throughout the project, and not be limited to the exhibition as a final outcome. Further issues and agendas will be developed as other participants join the 'ROUNDTABLE' through programs such as Workstations, E-journals, Residencies and New Commissions, and allied activities conducted via the 9th Gwangju Biennale website and other social networking media.
(Excerpted from Gwangju Biennale Foundation web page. http://www.gwangjubiennale.org)