Kukje Gallery Showcases Important Works by the Dansaekhwa Masters including Ha Chong-Hyun at Frieze Masters 2014 | KUKJE GALLERY
Kukje Gallery Showcases Important Works by the Dansaekhwa Masters including Ha Chong-Hyun at Frieze Masters 2014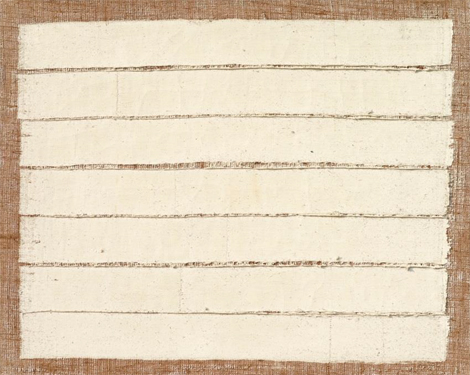 Conjunction 74-15,
1974, Oil on hemp cloth, 80 x 100cm
Image provided by Kukje Gallery
Exhibition Organization: Frieze Masters
Exhibition Dates: Oct 15 - Oct 19, 2014
Exhibition Venue: Frieze London, Regent's Park (프리즈 런던, 레겐츠 파크)
Website:
www.friezemasters.com/
Kukje Gallery will be participating in Frieze Masters, an international art fair with a focus in paintings and sculptures in London. 120 international galleries will be participating, displaying works from the most renowned artists of the 20th century. Programs like Frieze Masters Talks will also take place during the fair, hosted by curator Jasper Sharp.
Presenting works by Korea's renowned Dansaekhwa artists since the fair's inauguration in 2012, this year Kukje Gallery will showcase Ha Chong-Hyun's works from the 70's to the 90's. In conjunction with
The Art of Dansaekhwa
show currently open in Seoul, Kukje Gallery will present about 20 abstract works in London, where the works created in the 90's illustrate the intensified technical and philosophical developments of the Dansaekhwa movement. The 2014 Frieze Masters will be on view for a week from the preview on October 14.
Frieze Masters'14 Dansaekhwa 프리즈 매스터스 '14 국제갤러리 단색화 하종현 작가 및 주요 단색화 작품들 참여
국제갤러리는 올해로 3년째를 맞는 순수 회화 및 조각을 위주로 하는 런던 기반의 국제적인 아트페어 프리즈 매스터스에 참가한다. 이번 아트페어에는 120개의 국제적인 갤러리들이 참여하여 역사적인 거장의 20세기의 작품들을 소개하며, 큐레이터 재스퍼 샤프(Jasper Sharp)가 진행하는 프리즈매스터스 토크가 함께 진행될 예정이다.
개막이래 지속적으로 국내의 주요한 단색화 작품 및 작가들을 선보인 국제갤러리는 금년 하종현을 주요로 한 70년대에서 90년대의 작품들을 전시할 예정이다. 특별히 올해 프리즈 매스터스에는 현재 서울에서 개최된 <단색화의 예술>이라는 주제의 전시와 맞물려 대략 20여점에 달하는 색면 추상 작품을 선보인다. 90년에 들어 더욱 심화된 기법과 철학을 보여주는 작품들을 선보일 이번 프리즈 매스터스 단색화전은 10월 14일 프리뷰를 시작으로 약 1주일간 열릴 예정이다.