구본창, 이수경, 이우환, 김수자, 프랑스 파리 그랑 팔레에서 기획전 참여 | KUKJE GALLERY
구본창, 이수경, 이우환, 김수자, 프랑스 파리 그랑 팔레에서 기획전 참여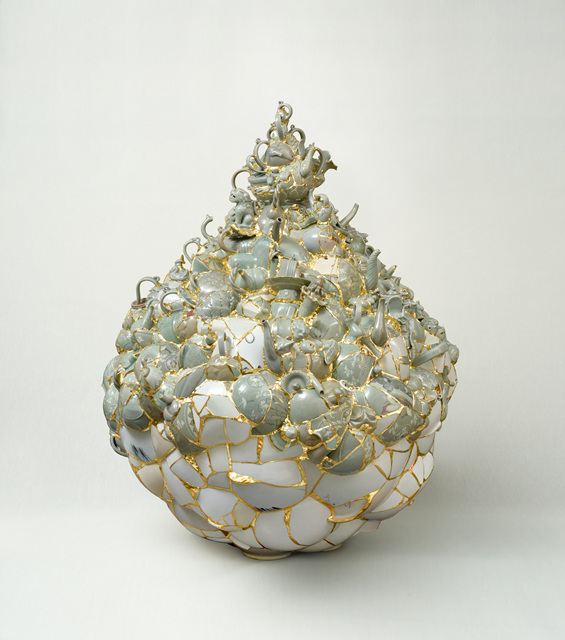 Yeesookyung, Translated Vase, 2015, size 105 x105x130(h) cm, ceramic shards, epoxy, 24k gold leaf
전시작가: 구본창 (b. 1953), 이수경 (b. 1963), 이우환 (b. 1936), 김수자 (b. 1957)
전시제목: 흙, 불, 혼 – 한국도자명품전 (Earth, Fire, Soul - Masterpieces of Korean Ceramics)
전시기간: 2016.04.27 – 2016.06.20
전시기관: 프랑스 파리 그랑 팔레 살롱 도네르 (Salon d'Honneur at the Grand Palais, Paris, France)
웹사이트:
http://www.grandpalais.fr/fr/evenement/la-terre-le-feu-et-lesprit
구본창, 이수경, 이우환, 김수자는 프랑스 파리의 그랑 팔레 (Grand Palais)에서 개최되는 기획전 <흙, 불, 혼 – 한국도자명품전>에 참가한다. 국립중앙박물관은 2015-2016 한불상호교류의해를 맞아 한국과 프랑스 양국의 문화교류를 활성화하고 한국 도자문화의 아름다움과 독창성을 소개하기 위해 이번 전시를 기획하였다. 청자구룡형주자(국보 제96호) 등 국립중앙박물관이 소장하고 있는 도자유물부터 현대작가들이 재해석한 도자 작품들에 이르기까지 약 300여점이 전시될 예정이다. 국제갤러리 구본창은 <Vessel (NM 05)>등 세 점을, 이수경은 <번역된 도자기>작품을 출품하며 김수자는 <Aire de Tierra / Air of Earth>작품을 선보인다. 해당 전시는 7월 29일부터 11월 6일까지 러시아 에르미타주 박물관에서 이어질 예정이다.
Koo Bohnchang, Yeesookyung, Lee Ufan, and Kimsooja will participate in the group exhibition
Earth, Fire, Soul - Masterpieces of Korean Ceramics
at the Grand Palais in Paris, France. In celebration of the 2015-2016 France-Korea Year, the National Museum of Korea has planned this exhibition to display the beauty and originality of Korean ceramic culture, and furthermore encourage the cultural exchange between the two countries. The exhibition will include 300 works from the collection of the National Museum of Korea, ranging from ceramic antiquities such as the Celadon Ewer in the Shape of a Turtle-dragon (Korean National Treasure 96), to ceramic reinterpretations by contemporary artists. Koo Bohnchang presents three artworks including
White Vessels (NM 05)
, Yeesookyung her
Translated Vase
, and Kimsooja shows
Aire de Tierra / Air of Earth
. From July 29 to November 6, 2016, this exhibition will travel to The State Hermitage Museum in Russia.
[Source from 2015-2016 Korea-France Year website]