양혜규, 독일 함부르크에서 개인전 ≪의사擬似 – 이교적 연쇄≫ 개최 | KUKJE GALLERY
양혜규, 독일 함부르크에서 개인전 ≪의사擬似 – 이교적 연쇄≫ 개최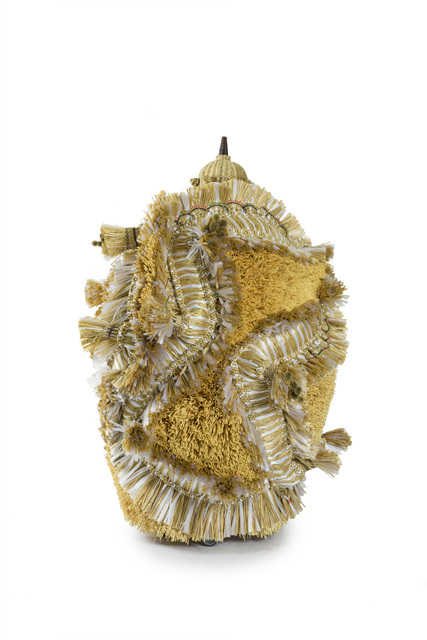 The Intermediate – Fan Dance around a Pagoda, 2016,
Artificial straw, steel stand, powder coating, casters, plastic twine, artificial plants, 162 x 117 x 117 cm
Courtesy of Hamburger Kunsthalle, Hamburg, Photo: Haegue Yang Studio, Image provided by Kukje Gallery
전시작가: Haegue Yang (Korean, 1971)
전시제목: ≪의사擬似 – 이교적 연쇄≫
전시기간: 2016.04.30 – 2017.04.30
전시기관: 독일 함부르크 쿤스트할레
웹사이트:
http://www.hamburger-kunsthalle.de/
양혜규는 오는 4월 30일부터 내년 4월 30일까지 독일 함부르크 쿤스트할레에서 개인전을 개최한다. 함부르크 쿤스트할레는 최근 보수를 마치고 재개관한 신관 1층을 할애하여 1년 주기로 세계적인 작가들의 신작 제작을 지원하고 개인전을 기획할 예정이다. 이는 국제 정세의 변화와 세계적인 문화 교류에 초점을 맞춘 새로운 연례 기획으로써, 그 첫 전시 작가로 양혜규가 초대되어 개인전 ≪의사擬似 – 이교적 연쇄≫를 개최한다. 이 전시에서는 근대 이래 산업화와 고대적 가치의 충돌 사이 긴장감을 바탕으로 한 '민속' 개념에 천착해 온 작가의 짚풀 조각 연작 <중간 유형 – 추수마법>(2016), <중간 유형 – 여기저기 덥수룩>(2016), <중간 유형 – 탑돌이 부채춤>(2016) 등 4점과 <솔 르윗 뒤집기 – 186배로 확장된, 다섯개의 모듈에 입각한 입방체 구조물 #93-C>(2016)등을 포함하여 신작 17점을 선보일 예정이다. 이를 통해 짚풀 공예뿐 아니라 공산품을 재료로 도입한 특유의 소재 연구 방법론에 다면적으로 접근한 양혜규 작가의 작품세계를 살펴볼 수 있는 기회가 될 것이다.
Haegue Yang is the subject of a solo exhibition at Hamburger Kunsthalle in Hamburg, Germany, from April 30 2016 to April 30, 2017. Having recently completed a major renovation, Hamburger Kunsthalle reopened the ground floor of its new building and will be supporting the production of work by well-established artists as well as mounting annual solo exhibitions. International artists will be invited to address sociopolitical issues through new works created especially for the space. For the Hamburger Kunsthalle's first exhibition, Haegue Yang has been invited to present
UNCHARTED TERRITORY
, where the artist will present seventeen new and old artworks addressing the way industry impacts contemporary society, and the way concepts of "folk" continue to play out in material culture. The exhibition will include works such as
Sol LeWitt Upside Down – Cube Structure Based on Five Modules, Expanded 186 Times
#93-C
(2016),
The Intermediate – Harvest Spell
(2016),
The Intermediate – Hairy All Over
(2016), and
The Intermediate – Fan Dance around a Pagoda
(2016). Through these works, viewers will be able to appreciate Yang's diverse practice through her investigation of both craft idioms and industrial materials.
[Source from Haegue Yang studio]