박찬경, 함경아, Taipei Biennial 참가 | KUKJE GALLERY
박찬경, 함경아, Taipei Biennial 참가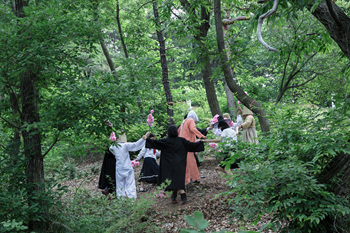 Citizen's Forest, 2016
Video (b&w), directional sound
27 minutes
Courtesy of Art Sonje Center and the Taipei Biennial 2016
전시작가: 박찬경, 함경아
전시제목: 타이페이 비엔날레
프리뷰: 2016년 9월 8일 – 2016년 9월 9일
전시기간: 2016년 9월 10일 – 2017년 2월 5일
전시기관: 대만 타이페이 Taipei Fine Arts Museum (TFAM)
웹사이트:
http://www.tfam.museum
1992년부터 개최되며 현대미술의 동시대 담론들을 담아내고 있는 제 10회 타이페이 비엔날레에 국제갤러리 박찬경과 함경아가 참가한다. 이번 비엔날레는 예술감독 코린 디세런스 (Corinne Diserens)의 기획으로 9월 10일부터 내년 2월 5일까지 개최되며, 함경아는 잘 알려진 자수작품 중 SMS 시리즈 4점을 선보일 예정이다. 박찬경은 약 25분 길이의 3 채널 비디오 신작
를 소개한다.

Park Chan-kyong and Kyungah Ham will exhibit at the 10th Taipei Biennial, a center contemporary art discourse since 1992. This year's biennial is conceptualized by guest curator Corinne Diserens and will remain open to public from September 10, 2016 to February 5, 2017. Kyungah Ham will present four works from her SMS series, which are some of her well-known embroidery pieces, while Park Chan-Kyong will showcase a new 25 minute, 3 channel video installation.