Candida Höfer presents solo exhibition <In Mexiko> at Galeria OMR | KUKJE GALLERY
Candida Höfer presents solo exhibition <In Mexiko> at Galeria OMR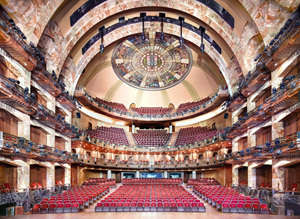 Teatro Juárez Guanajuato, 2015
Exhibiting Artist : Candida Höfer
Exhibition Title: In Mexiko
Exhibition Date: September 23, 2016 ㅡ November 5, 2016
Exhibition Venue: Galeria OMR, Mexico
Website:
http://galeriaomr.com/
멕시코 소재의 Galeria OMR에서 칸디다 회퍼의 개인전 < In Mexiko >가 9월 24일부터 11월 5일까지 개최된다. 칸디다 회퍼는 이 전시를 위해 2015년 10월 멕시코 내 주요 지역 – 할리스코주, 과나후아토주, 푸에블라주, 오악사카주, 멕시코주-를 순방하며 과나후아토주에 있는 후아레스 극장, 푸에블라주 내 팔라포시아나 도서관과 같은 멕시코를 대표하는 상징적인 건축물의 내부를 촬영하였다. 이번 전시에는 총 25여 작품을 선보일 예정이며, OMR 전시 후에는 미주와 유럽의 주요 기관에서 순회전을 갖는다.
Mexico's Galeria OMR will hold a solo exhibition on Candida Höfer titled
In Mexiko
from September 24 to November 5, 2016. In the October of 2015, Candida Höfer prepared for this exhibition by visiting several Mexican states, including Jalisco, Guanajuato, Puebla, Oaxaca, and Mexico. During this trip, she photographed the architectural interiors of iconic Mexican sites, such as the Juarez Theater in Guanajuato and the Biblioteca Palafoxiana in Puebla. The artist will exhibit approximately 25 artworks, and the exhibition will travel to leading institutions across the Americas and Europe after this solo show at Galeria OMR.