Kyungah Ham Participates in Lecture Program UNDERSTANDING NORTH KOREA Hosted by University of California, Davis | KUKJE GALLERY
Kyungah Ham Participates in Lecture Program UNDERSTANDING NORTH KOREA Hosted by University of California, Davis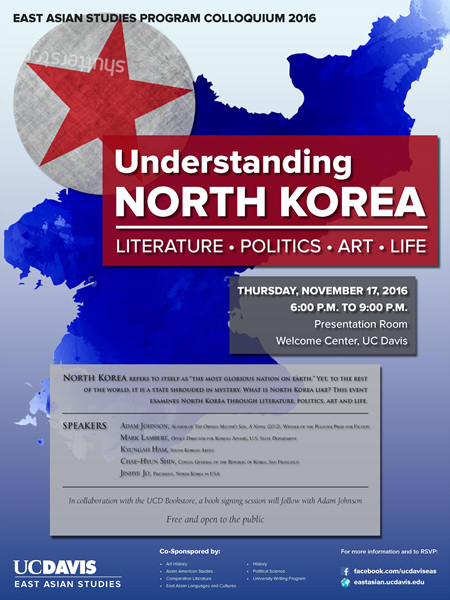 Artist: Kyungah Ham (함경아)
Exhibition Title: UNDERSTANDING NORTH KOREA
Program Date: Nov 17, 2016ㅣ 6pmㅡ9pm
Program Venue: University of California, Davis
Website:
www.arts.ucdavis.edu/exhibition/understanding-north-korea
Kyungah Ham will present at an event hosted by the Department of Art and Art History in University of California, Davis, on November 17. Titled
UNDERSTANDING NORTH KOREA
, this lecture will also see the participation of: Adam Johnson, the author of the Pulitzer Prize winning book in the Fiction category, The Orphan Master's Son: a Novel (2012), which deals with problems in North Korea, Mark Lambert, the Office Director for Korean Affairs in the U.S. State Department, Chae-Hyun Shin, the Consul General of the Republic of Korea in San Francisco, and Jinhye Jo, the President of North Korean Refugees in USA. This event will examine North Korea, a state shrouded in mystery, through the lens of literature, politics, art, and life.
함경아, UC Davis에서 개최되는 프로그램 에 참여
국제갤러리의 함경아는 오는 11월 17일 UC DAVIS의 미술사학 프로그램 >에 스피커로 참여한다. 라는 주제로 진행되는 이번 강연에는 함경아 외에도 북한 문제를 다룬 소설 <고아원 원장의 아들>로 퓰리처 상을 수상한 아담 존슨, 미국 국무부 한국과장 마크 램버트, 주 샌프란시스코 대한민국 총영사관 신재현 총영사, 탈북민 지원단체(North Korean Refugees in USA)의 조진혜 회장이 스피커로 참여한다. 베일에 싸인 북한이라는 나라를 문학, 정치, 미술 그리고 삶을 통해 살펴보는 시간을 갖을 예정이다.