Michael Joo, Carolina Nitsch Project Room에서 개인전 <Seven Sins> 개최 | KUKJE GALLERY
Michael Joo, Carolina Nitsch Project Room에서 개인전 <Seven Sins> 개최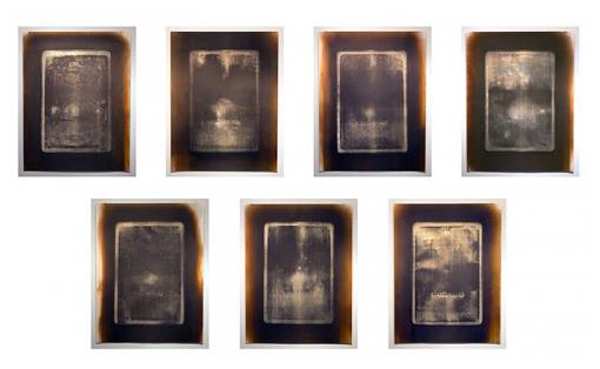 Michael Joo, Seven Sins, 2016, Seven silver nitrate screenprints on 500 gsm Somerset paper. Each 115.6 x 88.9 cm.
참여작가: Michael Joo
전시제목: Seven Sins
전시기간: 2017년 2월 2일 ㅡ 2017년 4월 1일
전시기관: Carolina Nitsch Project Room, NY
웹사이트: http://www.carolinanitsch.com/forthcoming/michael-joo-7-sins/

국제갤러리의 마이클 주는 2017년 2월 2일부터 4월 1일까지 뉴욕에 위치한 캐롤라이나 니치 프로젝트 룸 (Carolina Nitsch Project Room)에서 <Seven Sins>전을 개최한다. 대나무와 소금, 눈물, 땀 등 인체 분비물과 같은 자연적이고 원초적인 재료들로 프린트, 설치, 비디오, 조각 작업들을 제작하는 마이클 주는 특정 행동을 한 후 소모되는 칼로리를 계산하여 베이킹 트레이에 기록한 연작 작업들을 선보인 바 있다. 이번 개인전에는 성경에서 말하는 교만, 인색, 탐욕과 같은 일곱 가지 죄악을 행함으로써 소모되는 칼로리를 계산한 후, 해당 칼로리를 베이팅 트레이에 투명 에폭시로 인쇄한 후 질산은과 우레탄으로 코팅한 신작 프린트 <Seven Sins>을 선보인다. 이 장소특정적 설치작업은 프린트작품에 사용된 제빵용 트레이를 탑처럼 쌓아 올려 설치, 내부공간과의 대화를 시도하며, 관람객들에게 시간과 에너지에 대해 고민할 수 있는 기회를 제공한다.

Michael Joo is featured in a solo exhibition titled Seven Sins at Carolina Nitsch Project Room, New York, from February 2 to April 1, 2017. By using natural and primitive media, such as bamboo and salt, and bodily secretions, such as tears, and sweat, Joo creates prints, installations, video art and sculptures. The images in this body of work derive from a long running series of stamped numbers on baking trays, which are calculations of expended calories while performing various actions. This exhibition focuses specifically on the actions that one might engage in and the energy used while performing each of the seven sins. The numbers are screen printed onto paper with transparent epoxy, treated with silver nitrate, and sealed with urethane coating to stabilize their unique qualities. One of the works is a site-specific sculpture that consists of a stack of used baking trays. This sculpture ascends to the ceiling, thereby engaging the architecture of the space. These trays echo the ghost-like images of the prints while also alluding to the passage of time and energy.