양혜규, kurimanzutto에서 개인전 <Ornament and Abstraction> 개최 | KUKJE GALLERY
양혜규, kurimanzutto에서 개인전 <Ornament and Abstraction> 개최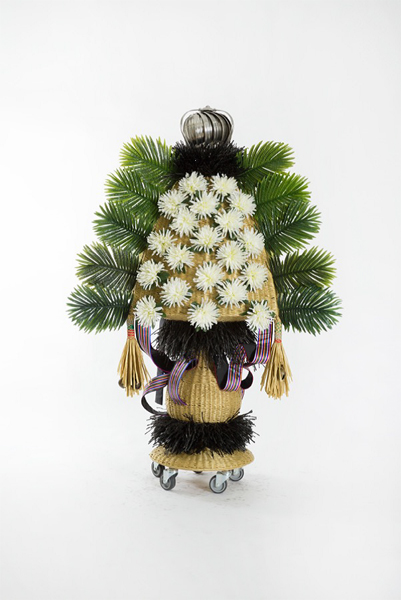 The Intermediate – Monsoon Mourning Saekdong Cone, 2017. Courtesy of the artist and kurimanzutto, Mexico City. Photo: Studio Haegue Yang.
참여작가: Haegue Yang
전시제목: Ornament and Abstraction
전시기간: 2017년 4월 1일 ㅡ 2017년 5월 6일
전시기관: kurimanzutto, Mexico City, Mexico
웹사이트:
http://www.kurimanzutto.com/en/exhibitions/haegue-yang-ornamento-y-abstraccion
국제갤러리의 양혜규는 2017년 4월 1일부터 5월 6일까지 멕시코 멕시코시티에 위치한 쿠리만주토 (kurimanzutto)에서 개인전 <장식과 추상>을 개최한다. 전시 제목에서 엿볼 수 있듯, 이번 전시에서 양혜규는 서구의 규범적인 추상성과 장식성을 동시에 지시하는 공동의 방법론을 제시하며, 언뜻 대비되는 이 두 가지 요소를 서로 소통케 한다. 본 전시에서는 최근 작가가 진행하는 베네치안 블라인드 설치작업, 인조 짚으로 만든 조각작품, 종이 꼴라쥬 방식을 활용한 작품 등 다양한 매체를 넘나드는 작업들을 선보일 예정이다. 작품들은 <중간유형>, <신용양호자>, 그리고 <솔 르윗 뒤집기 - 1978배로 확장, 복제하여 다시 돌려 놓은 K123456>(2015)와 같이 몇 개의 작업군으로 나누어 제시되며, 각 작업군 별로 각기 다른 전술을 동원하여 작가의 포괄적인 작업을 다양한 관점에서 탐구하고자 한다. 더불어, 극적인 빛과 그림자, 여러 종류의 향 등을 더함으로써 작가의 감각적인 체험이 입혀진 설치를 선보일 예정이다.

Haegue Yang will be featured in a solo exhibition titled Ornament and Abstraction at kurimanzutto in Mexico City, Mexico from April 1 to May 6, 2017. This is Yang's first solo exhibition in Latin America. As the title suggests, this exhibition will inform both the seemingly opposing fields of ornamentation and the western canon of abstraction in dialogue with one another. The works in the exhibition will provide an overview of Yang's recent development across various media from Venetian blind installations to synthetic straw sculptures and paper collage. Arranged by series in different subgroups, The Intermediate, Trustworthies, Sol LeWitt Upside Down – K123456 (2015), each grouping will explore different aspects of this expansive exhibition. The artist will complement the installation with sensory experiences that include a variety of scents and the theatrical use of light and shadow.
[Source from the kurimanzutto press release]