폴 매카시, 스페인 Fundació Gaspar에서 개인전 개최 | KUKJE GALLERY
폴 매카시, 스페인 Fundació Gaspar에서 개인전 개최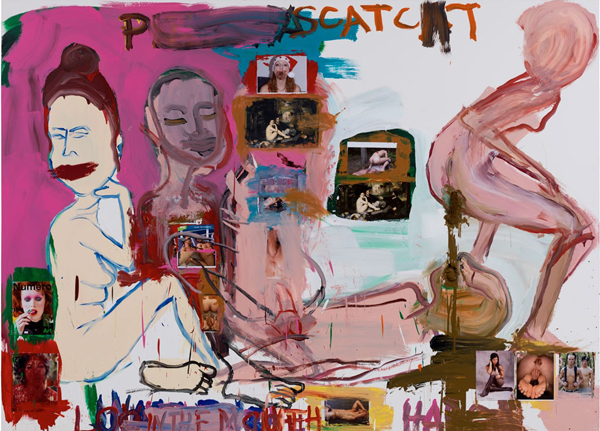 SC, Luncheon on the Grass (Dejeuner sur l'herbe), 2014
전시작가: 폴 매카시
전시제목: WS & CSSC, Drawings and Paintings
전시기간: 2017년 5월 26일 ㅡ 2017년 7월 16일
전시기관: Fundació Gaspar, Barcelona, Spain
웹사이트:
http://www.fundaciogaspar.org/wscssc3/
국제갤러리의 폴 매카시는 2017년 5월 26일부터 7월 16일까지 스페인 바르셀로나에 위치한 가스파재단 (Fundació Gaspar)에서 개인전 을 개최 한다. 2015년에 설립된 가스파재단은 20세기 초반부터 파블로 피카스, 호안 미로, 알렉산더 칼더 등의 거장들을 바르셀로나에 꾸준히 선보인 가스파 가문이 세운 비영리 재단이다. 이번 전시에서는 작가가 지속적으로 진행하고 있는 두 시리즈 와 의 회화, 콜라주, 드로잉 작업들을 소개한다. 전시되는 두 시리즈는 미국 대중문화와 인간의 충동성과 욕망이 병치되어 작가 특유의 독창적인 풍자를 보여주며, 비인간적으로 보이는 인간의 욕망에서 물질적 실험과 심리적 발전 과정을 엿볼 수 있는 역동적인 회화 기법으로 캔버스에 나타난다. 콜라주 작업은 패션잡지에서 오려낸 이미지, 인터넷에서 찾은 이미지들뿐만이 아니라 작은 탁상 같은 오브제들로 이루어져 입체적인 구조를 보여준다. 매카시는 회화의 역사와 현대적인 모티프를 결합하여 인간의 선천적 욕망과 어린 시절 순수함이 성인 지식과 맞닿는 불편한 현상을 드러내고자 한다.

Paul McCarthy is featured in a solo exhibition titled WS & CSSC, Drawings and Paintings at the Fundació Gaspar, Spain, from May 26 to July 16, 2017. Fundació Gaspar is a nonprofit organization established in 2015 by the Gaspar family. The Gaspars have been introducing works of modern-day masters such as Pablo Picasso, Joan Miró, and Alexander Calders in their native city of Barcelona since the early 20th century. In this solo exhibition McCarthy presents his paintings, collages, and drawings exploring his two main ongoing projects within his multidisciplinary practice: White Snow and Stagecoach. In both series, archetypal American narratives are juxtaposed against human impulses and desires, examined with the ingenuity and subversion that characterize McCarthy. Inhumane human desires are represented on the canvas with a heavy gestural pictorial style, motivated by material experimentation and psychological processes. His collages incorporate pages torn from fashion magazines, images downloaded from the internet, and three-dimensional objects such as a coffee, creating a three-dimensional construction. Within these works, McCarthy masterfully mixes art history with contemporary motifs, exposing latent desire and the uncomfortable space where childhood innocence meets adult knowledge.
[Source from the Fundació Gaspar website]