빌 비올라, Copenhagen Contemporary 개인전 개최 | KUKJE GALLERY
빌 비올라, Copenhagen Contemporary 개인전 개최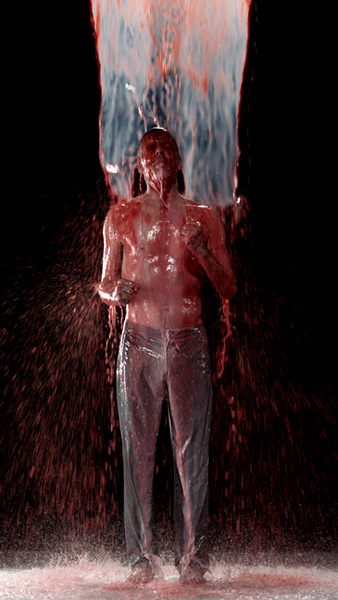 Bill Viola, Inverted Birth (2014), video/sound installation, color High-Definition video projection screen mounted vertically and anchored to floor in dark room. Projected image size: 5 x 2.81 m, room dimensions variable. 8:22 minutes. Performer: Norman Scott. Photo by Kira Perov.
전시작가: Bill Viola
전시제목: Bill Viola
전시기간: 2017년 8월 29일 ㅡ 2017년 11월 26일
전시기관: Copenhagen Contemporary, Denmark
웹사이트:
http://cphco.org/en/exhibition/bill-viola/
2015년 국제갤러리 개인전을 통해 선보인 바 있는 빌 비올라의 대형 영상설치 작업 <도치된 탄생(Inverted Birth)>(2014)이 2017년 8월 19일부터 11월 26일까지 덴마크의 코펜하겐 컨템포러리(Copenhagen Contemporary)에서 상영된다. 빌 비올라는 비디오아트 매체의 선구자로서 영상의 속도를 인위적으로 늦춰 느리게 움직이는 사람 등을 관찰할 수 있는 대규모의 슬로우 모션 비디오 작품으로 잘 알려져 있으며, 지난 40여년간 시간의 흐름을 완벽하게 시각화하여 현실에 존재하지만 보이지 않는 세계를 사유하게 하는 작업들을 지속해왔다. <도치된 탄생>은 삶, 죽음, 탄생과 부활, 인간 감정의 힘 그리고 존재의 본질을 탐구하는 작품으로 5미터 높이의 기념비적인 크기로 관객들을 압도한다.

Bill Viola's large scale video installation Inverted Birth (2014), which was previously showcased in Kukje Gallery for the artist's 2015 solo exhibition, will be screened at the Copenhagen Contemporary (CC) in Denmark from August 19 to November 26, 2017. Bill Viola is recognized as a pioneer in the medium of video art, known for his iconic, large-scale, slow-motion immersive video works produced over a 40-year career. His series of video works is created by artificially elongating the flow of time and visualizing the world that is pre-existent but invisible to the naked eye. Towering to a monumental height of 5 meters, Inverted Birth explores life, death, birth, rebirth, the power of human emotion and the nature of human existence.
[Source from Copenhagen Contemporary (CC) website]