Kukje Gallery Participates in the 16th Edition of the Korea International Art Fair(KIAF) | KUKJE GALLERY
Kukje Gallery Participates in the 16th Edition of the Korea International Art Fair(KIAF)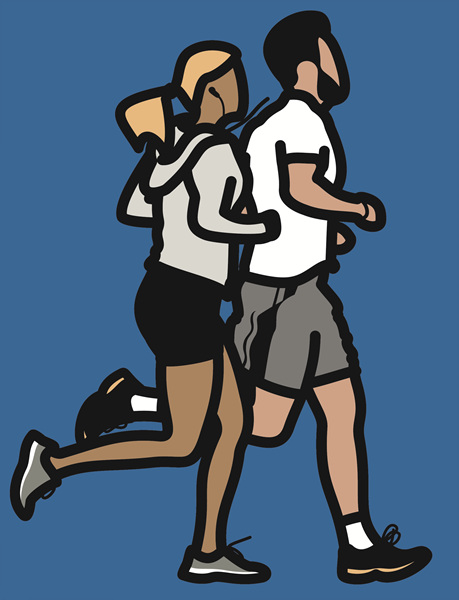 Julian Opie's Flight attendant and Solicitor. 1 (2015), Vinyl on wooden stretcher, 227.7 x 174 x 3.5 cm
Exhbition Dates: September 21 - 24, 2017
Exhibition Venue: Coex A & B Hall (코엑스 A, B홀)
Booth Location: Kukje Gallery Booth B118
Website:
www.kiaf.org/2017/ko/
Kukje Gallery will participate in the 16th edition of the Korea International Art Fair (hereafter KIAF), which is organized by the Galleries Association of Korea. One hundred and sixty one galleries from 31 countries will participate in KIAF 2017 which will open with a VIP preview on September 20 and take place from September 21 to 24 in halls A and B at COEX, located in Samseong-dong, Seoul. Kukje Gallery will showcase works by a roster of renowned Korean artists including Kim Yong-Ik, Gimhongsok, Ahn Kyuchul, Haegue Yang, Lee Kwang-Ho, Lee Ufan, Wook-kyung Choi, Ha Chong-Hyun, and Kyungah Ham. Kukje Gallery will also feature works by international artists such as Ghada Amer, Donald Judd, Michael Joo, Bill Viola, Anish Kapoor, Ugo Rondinone, Jean-Michel Othoniel, Jenny Holzer, Julian Opie, and Candida Höfer.
국제갤러리, 2017 제 16회 한국국제아트페어(KIAF) 참가
국제갤러리는 한국화랑협회가 주최하는 제 16회 한국국제아트페어(이하 KIAF)에 참가한다. 2017년 9월 20일 VIP 프리뷰를 시작으로 21일부터 24일까지 서울 삼성동 코엑스 1층 A, B홀에서 열리며, 이번 KIAF 2017에는 31개국 161개의 갤러리가 참여한다. 국제갤러리는 국내작가로는 김용익, 김홍석, 안규철, 양혜규, 이광호, 이우환, 최욱경, 하종현, 그리고 함경아의 작품을 비롯하여 다양한 작품들을 선보이며, 해외작가로는 가다 아메르, 도널드 저드, 마이클 주, 빌 비올라, 아니쉬 카푸어, 우고 론디노네, 장-미셸 오토니엘, 제니 홀저, 줄리안 오피, 그리고 칸디다 회퍼의 작품을 소개할 예정이다.