Lee Ufan Presents New Outdoor Sculpture at the Serpentine Gallery, London | KUKJE GALLERY
Lee Ufan Presents New Outdoor Sculpture at the Serpentine Gallery, London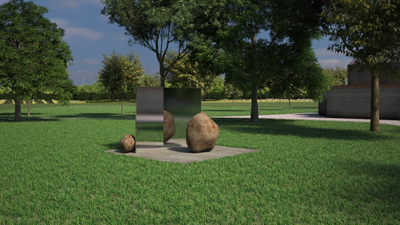 Lee Ufan, Relatum - Stage (2018) ⓒ AECOM
Artist: LeeUfan (이우환)
Exhibition Title: Lee Ufan Relatum - Stage
Exhibition Dates: Feb 6 – Jul 29, 2018
Exhibition Venue: Serpentine Gallery, Kensington Gardens, London, UK
Website:
www.serpentinegalleries.org/press/2018/02/lee-ufan-relatum-stage
Lee Ufan will present a new outdoor sculpture on the Serpentine Gallery premises in Kensington Gardens, London, in early February of 2018. Titled Relatum – Stage (2018), the Serpentine's new sculptural commission by Lee Ufan continues the gallery's exploration of public art. In its subtle interplay of elements and setting, Lee's new work builds on ideas that permeated previous artworks in the Relatum series, as well as the artist's own ongoing exploration of materiality and difference. Comprised of two, angled, mirrored, steel sheets and two different-sized stones, Relatum – Stage will merge the natural and industrial in a poetic installation that reflects the surrounding environment of the park. In celebration of the debut of Relatum – Stage, Lee Ufan will be in conversation with the Serpentine Galleries Artistic Director Hans Ulrich Obrist at the Korean Culture Centre UK on February 6 (Tues.), 2018, from 6pm.


이우환, 런던 켄싱턴 공원에 새로운 공공미술 조각 설치

이우환은 서펜타인 갤러리가 진행해온 공공미술 프로젝트의 일환으로 2018년 2월 초부터 서펜타인 갤러리 야외에서 새로운 조각작품을 선보인다. 요소들간의 미묘한 상호작용과 구도가 돋보이는 새로운 조각작품 <Relatum - Stage>(2018)에는 기존의 연작 작품 속의 개념과 더불어 물질성과 차이점에 대한 작가의 지속적 탐구가 스며 들어있다. 두 개의 각진 거울형의 철판과 바위로 구성된 작품 <Relatum - Stage>는 공원의 주변환경을 반영한 시적 설치물로써 자연과 산업을 병합시키는 매개로 작용한다. 작품 공개와 연계하여 이우환은 20018년 2월 6일 오후 6시 영국한국문화원에서 서펜타인 갤러리의 아트디렉터인 Hans Ulrich Obrist와 대화의 시간을 가질 예정이다.
[Source from the Serpentine Galleries press release]