Kukje Gallery to Open Busan Branch on August 24, 2018 | KUKJE GALLERY
Kukje Gallery to Open Busan Branch on August 24, 2018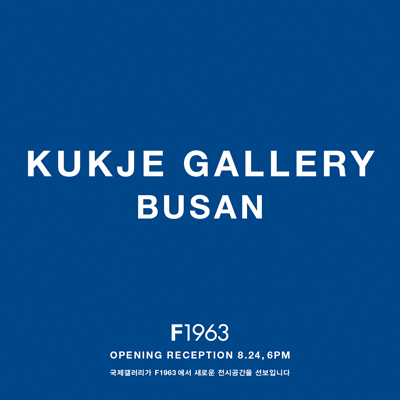 Venue: F1963 Kukje Gallery Busan
Business Time: 10am - 6pm, closed on Monday
Kukje Gallery Busan will open on August 24, 2018. Founded in 1982 and based in Sogyeok-dong, Seoul, Kukje Gallery is launching its first-ever outpost at a scale of approximately 330m2 in F1963, a cultural complex located in Mangmi-dong, Suyeong-gu, Busan. Diverging from the global expansion strategy utilized by mega-galleries abroad, Kukje Gallery is steadfastly committed to remaining domestic, instead of following the overwhelming trend of launching outposts around the world. Kukje Gallery's decision to open its first outpost in over 35 years since its founding is established on the recognition of the importance of Busan's international and regional outreach, along with the city's substantial cultural and artistic infrastructure. Since 2014, Kukje Gallery has been a regular exhibitor at Art Busan, regularly introducing works by major Korean and international artists to audiences in the Yeongnam region. The gallery strongly believes that Busan will establish itself as the new arts hub of Asia and feature a new facade of the Korean art scene.
To celebrate the inauguration of the Busan branch, Kukje Gallery will showcase works by a roster of renowned Korean and international artists who were seldom showcased in the city. The inaugural installation will present works by leading Dansaekhwa artists including Lee Ufan, Kwon Young-Woo, Park Seo-Bo, and Ha Chong-Hyun, along with those by Sungsic Moon and Haegue Yang. Works by these foremost Korean artists will be shown in dialogue with works by an international roster of artists such as Anish Kapoor, Roni Horn, Candida Höfer, Ugo Rondinone, Bill Viola, Byron Kim, and Julian Opie, whose first solo showcase in Busan took place at the F1963 earlier this year.
By opening its Busan branch in the popular cultural complex F1963, Kukje Gallery anticipates a wider and more extensive outreach not only to the regional art lovers but also to the general public. Kukje Gallery will introduce a diverse range of programs to the Busan audiences, showcasing works by the gallery's foremost contemporary artists in dialogue with the unique attributes of the F1963 space. Kukje Gallery Busan will be open from 10am to 6pm every Tuesday through Sunday.
국제갤러리, 8월 24일 부산점 개관
국제갤러리가 오는 8월 24일 부산점을 개관한다. 서울 소격동 소재의 국제갤러리는 1982년 개관 이래 최초의 분점인 부산점을 부산 수영구 망미동에 위치한 복합문화공간 F1963에 약 100평 규모로 연다. 해외 대형 갤러리들이 글로벌 진출 전략의 일환으로 전세계 곳곳에 분점을 개관하는 추세와는 달리 국내 활동만을 고수해왔던 국제갤러리는 부산만의 국제성과 지역성, 문화예술 인프라를 주요하게 인식하여 부산점을 개관하기로 결정했다. 2014년부터 아트 부산 등에 꾸준히 참가하며 영남 지역에서 꾸준히 국내외 작가들과 작품을 소개해온 국제갤러리는 부산이 고유한 에너지를 바탕으로 한국 미술의 또 다른 국면과 발전을 보여주는 아시아 미술의 주요 도시로 자리잡을 것이라 확신한다.
이번 부산점 개관을 기념하며 국제갤러리는 그 동안 쉽게 접할 수 없었던 세계적인 국내외 작가들의 작품을 선보인다. 국내작가로는 이우환, 권영우, 박서보, 하종현 등 단색화 거장의 작품부터 문성식, 양혜규 등의 작품을 선보일 예정이다. 해외작가로는 아니쉬 카푸어, 로니 혼, 칸디다 회퍼, 우고 론디노네, 빌 비올라, 바이런 킴 그리고 지난 봄 F1963에서 개인전을 개최한 줄리안 오피 등의 작품이 소개된다.
국제갤러리는 대중적인 복합문화예술공간 F1963에 입점함으로써 해당 지역의 미술 애호가들은 물론 지역 시민과 더욱 가까워지는 좋은 계기가 될 것으로 기대하고 있다. 앞으로 부산점만의 공간 특성을 고려하여 동시대 미술을 대표하는 국내외 소속 작가들의 작품들을 선보이는 등 다채로운 프로그램을 통해 부산에서의 새로운 행보를 이어갈 예정이다. 국제갤러리 부산점은 화요일부터 일요일 오전 10시부터 오후 6시까지 운영된다.