Lee Ufan Participates in Group Exhibition The Challenging Souls: Yves Klein, Lee Ufan, Ding Yi at the Power Station of Art, Shanghai | KUKJE GALLERY
Lee Ufan Participates in Group Exhibition The Challenging Souls: Yves Klein, Lee Ufan, Ding Yi at the Power Station of Art, Shanghai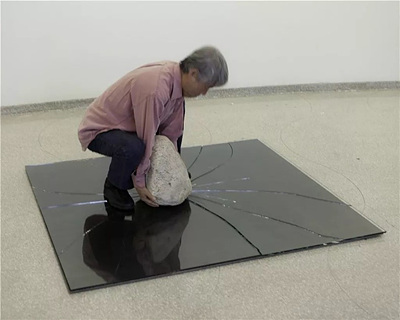 Lee Ufan at Guggenheim. Courtesy of Solomon R. Guggenheim Museum, 2011.
Artist: Ufan Lee (이우환)
Exhibition Dates: Apr 28 - Jul 28, 2019
Exibition Venue: the Power Station of Art in Shanghai (상하이 당대예술박물관(PSA))
Website:
www.powerstationofart.com/en/exhibition/challengingsouls-pressworksen.html
Lee Ufan is featured in a group exhibition titled
The Challenging Souls: Yves Klein, Lee Ufan, Ding Yi
, together with the French Nouveau Réalist and avant-garde painter Yves Klein and the Chinese abstract painter Ding Yi, on view through July 28, 2019, at the Power Station of Art in Shanghai, China.
This is the first time the works of Yves Klein and Lee Ufan are shown in China under a common artistic umbrella with their Chinese colleague Ding Yi. These three seminal artists were pioneers who facilitated the public's further understanding of the avant-garde movement by introducing unique materials, colors, and performance elements into the non-popular, elitist, and metaphysical contexts of the avant-garde. Furthermore, the artists' origins from different cultures, times, and locations opened new horizons for the comparative study of avant-garde art between the west and the east. Their works challenge us to reassess our relationship to art, society, and the public in the global and cross-cultural context we live in.
The Challenging Souls: Yves Klein, Lee Ufan, Ding Yi
is therefore also a research project which examines the trajectory of the experimental art movement, comparing the visual languages of three artists who have prevailed social changes and upheavals since the 1960s. In doing so, one also has to discount the rise of the contemporary art market and its implications on values and artistic power.
현대미술의 거장 이우환, 상하이 당대예술박물관(PSA)에서 3인 기획전 《도전하는 영혼들: 이브 클라인, 이우환, 딩이》 전시 참가
현대미술의 거장 이우환은 프랑스 누보 레알리즘의 대표적 화가이자 전위예술가 이브 클라인(Yves Klein), 중국 추상작가 딩이(Ding Yi)와 함께 2019년 7월 28일까지 상하이 당대예술박물관(PSA)에서 개막한 3인 기획전 《도전하는 영혼들: 이브 클라인, 이우환, 딩이》에서 작품을 선보인다.
이브 클라인과 이우환의 작품이 딩이의 작품과 함께 하나의 전시 아래 중국에서 개최되는 것은 이번이 처음이다. 이들 예술가들은 전위예술의 비인기적, 엘리트주의적, 형이상학적인 맥락에 독특한 소재와 색채, 그리고 공연 요소를 도입하여 당대의 대중과 호흡할 수 있는 다양한 지점의 화두를 개척하였다는 공통점을 가진다. 게다가, 태생적으로 서로 다른 문화, 시대, 장소에서 활동한 예술가들은 전위예술에 대한 서양과 동양의 비교 및 연구를 위한 새로운 지평을 열었다. 이들의 작품은 현재 우리가 살고 있는 다양한 문화와 사회, 그리고 예술과의 관계를 재평가하는 기회를 제시한다.
《도전하는 영혼들: 이브 클라인, 이우환, 딩이》는 1960년대 이후 사회적 격변을 이겨낸 세 예술가의 시각언어를 비교하면서 실험적인 예술 운동의 궤적을 조사하는 연구 프로젝트다.
[Source from Power Station of Art website]