Kim Yong-Ik, Subject of Solo Exhibitions in Berlin and New York, Presents New Monograph with French Publishing House Cahiers d'Art | KUKJE GALLERY
Kim Yong-Ik, Subject of Solo Exhibitions in Berlin and New York, Presents New Monograph with French Publishing House Cahiers d'Art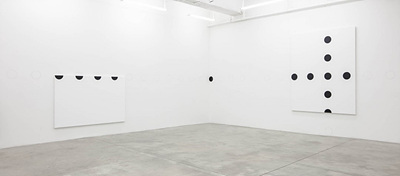 Installation view of Kim Yong-Ik: Speaking of Latter Genesis, 2019. Image by Jeremy Haik.
Artist: Kim Yong-Ik (김용익)
Exhibition Dates: Berlin Apr 27 - Aug 24, 2019 / New York May 03 - Jun 15, 2019
Exhibition Venues: Galerie Barbara Wien (베를린 바바라 빈 갤러리), Tina Kim Gallery (뉴욕 티나킴 갤러리)
Websites:
www.barbarawien.de/gallery.php
www.tinakimgallery.com/exhibitions/kim-yong-ik2/press-release
www.cahiersdart.com/news/2018/march-2018/kim-yong-ik-untitled-utopias
Kim Yong-Ik, a conceptual artist who has maintained a distinct stance amid the dominant artistic movements in Korea throughout his 40-year career, will unveil
This is not the answer
at Galerie Barbara Wien to coincide with the Gallery Weekend Berlin program. As his first-ever solo presentation in Germany, Kim will show a selection of major works stemming from the 1970s to today, including sculpture, painting, and drawing. Notable works in the show include Kim's early wall installations entitled
Plane Object
(1974–81) and
Closer... Come Closer...,
also known as the "polka dot paintings", which he began in the early 1990s. The show will also encompass his most recent works, wherein he draws lightly with coloured pencils and pencil on large white canvases, repeating and overlaying the geometrical forms of squares and circles.
Running parallel with the Berlin show, a new rendition of Kim Yong-Ik's canvas installation is on view at Tina Kim Gallery, New York, through June 15, 2019. For his solo exhibition at Tina Kim Gallery, Kim has created a site-specific wall installation that engages directly with the space. A series of dots line the room, moving off the canvas and directly onto the walls. By expanding his work beyond the painting surface and into the physical gallery space, the architecture becomes part of the work itself, demonstrating the artist's refusal to be bound by the constraints of traditional artworks.
In addition, a new monograph on the artist will be published by French publishing house Cahiers d'Art in collaboration with Tina Kim Gallery and Kukje Gallery. Chronologically tracing his 40-year long career, the publication will include texts by Beck Jee-Sook, Director of the Seoul Museum of Art (SeMA); Philippe Vergne, Director of the Serralves Museum of Contemporary Art in Porto; and an artist interview by curator, art critic, and Cahiers d'Art editor Hans Ulrich Obrist.
김용익, 베를린과 뉴욕 개인전 개최 및 프랑스 까예다르 출판사에서 모노그래프 발간
한국 미술의 주요 흐름 가운데 독립적인 위치를 고수해온 대표적인 원로 작가 김용익은 '갤러리 위켄드 베를린' 기간에 개막한 베를린 바바라 빈 갤러리에서의 개인전 《이것은 답이 아니다》를 오는 8월 24일까지 선보인다. 독일에서 처음으로 열리는 작가의 이번 개인전은 1970년대부터 현재에 이르기까지 근 40여 년 간 작업 세계의 근간을 이루어온 회화, 드로잉, 설치 등 주요 작업 15여 점으로 구성된다. 특히 작가의 초기 연작인 〈평면 오브제>(1974–81)와 1990년대 초에 시작된 "땡땡이 회화" 연작 〈가까이… 더 가까이…〉 등 주요 대표작을 만날 수 있다. 또한 흰 캔버스 표면에 색연필과 연필로 사각형, 원 등 기하학적 형태를 반복적으로 얇고 희미하게 덧씌우는 방식으로 작업한 최근작을 처음 소개한다.
한편 오는 6월 15일까지 뉴욕 티나킴 갤러리에서 개최되는 김용익의 개인전에서는 2017년부터 지속해 온 장소특정적 캔버스 설치 작업이 공개된다. 일련의 질서 아래 화면을 구성하는 원들은 캔버스 표면을 넘어 갤러리 벽으로 일탈하는 등 전시장 벽면 전체를 일정한 간격으로 점령한다. 물리적, 개념적 확장을 통해 회화의 표면을 넘어 주변 공간까지 반영하는 이번 작품은 김용익이 90년대 후반 모더니즘의 규범과 제약을 교란시키고자 시도했던 월 드로잉 연작을 재해석한 작업이다.
한편 시각예술 전문 출판사인 파리 까예다르(Cahiers d'Art)는 티나킴 갤러리, 국제갤러리와의 협력 하에 김용익의 40년 화업을 연대별로 담은 모노그래프를 발간하였다. 이 도록에는 서울시립미술관(SeMA) 관장 백지숙과 포르투 세할베스 현대미술관 디렉터 필립 베른(Philippe Vergne)의 글, 그리고 김용익과 한스 울리히 오브리스트(Hans Ulrich Obrist)의 인터뷰가 수록되었다.
[Source from Galerie Barbara Wien, Tina Kim Gallery, and Cahiers d'Art websites]