Kyungah Ham Participates in 52 ARTISTS 52 ACTIONS, Group Exhibition at Artspace Sydney | KUKJE GALLERY
Kyungah Ham Participates in 52 ARTISTS 52 ACTIONS, Group Exhibition at Artspace Sydney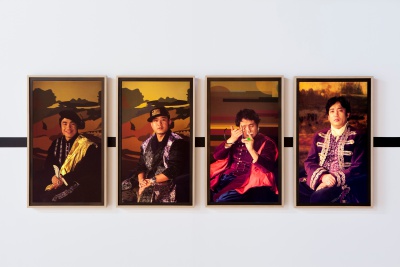 Kyungah Ham, Mona Lisa and the Others from the North, 2015, installation view, Artspace, Sydney, 2019, courtesy of the artist and Kukje Gallery, Seoul. Photo: Artspace
Artist: Kyungah Ham (함경아)
Exhibition Dates: May 18 - August 4, 2019
Exhibition Venue: Artspace Sydney (아트스페이스 시드니)
Website:
www.artspace.org.au/program/exhibitions/2019/52-artists-52-actions-exhibition/
Kyungah Ham, known for her series of embroidery works depicting the relationship and ideology of South and North Korea, participates in
52 ARTISTS 52 ACTIONS
(on view through August 4), a group exhibition held as an extension of a year-long online project of the same title. The project commissioned 52 artists and collectives from 31 countries to stage actions in historically unique locations throughout the world and share them with global audiences online from January 2018 to January 2019. The exhibition brings this rich collection into the Artspace galleries to address the social, cultural and political implications present in different regions throughout the world and considers how art as an action has the power to invoke change.
Ham's
Mona Lisa and the Others from the North
(2015) departs from a fortuitous encounter with an embroidered Mona Lisa handcrafted by North Korean artisans. Enthralled by the question "in a hermit kingdom where only state-admitted art forms can exist, how will the iconic Mona Lisa be perceived by the North Koreans who have absolutely no prior knowledge of western art historical context and value?", the artist conducted a series of interviews with North Korean defectors, from which she documented extensive testimonies on life in North Korea, the escape, and settlement in South Korea. These interviews of the North Korean defectors center on the Mona Lisa and connect to the broader narrative of their experiences in North Korea, forming a new metaphysical and three-dimensional structure of Mona Lisa within.
함경아, 시드니
아트스페이스
그룹전
《52 ARTISTS 52 ACTIONS》
참가
남북의 분단 현실을 둘러싼 복잡미묘하고 다양한 관계를 자수 회화로 풀어내는 작가 함경아가 최근 시드니 아트스페이스에서 개최한 그룹전 《52 ARTISTS 52 ACTIONS》(2019년 8월 4일 폐막)에 참가 중이다. 이번 그룹전은 31개국 52명의 작가 및 예술단체가 특별한 역사와 의미를 가진 장소에서 진행한 작업을 올해 1월까지 약 1년간 온라인 플랫폼에서 선보인 프로젝트의 연장선상에서 기획되었다. 《52 ARTISTS 52 ACTIONS》전은 각 지역에서 받은 사회적, 문화적, 정치적 영향을 관객에게 전달하며, 나아가 행동으로서의 예술이 어떻게 변화를 촉구하는 힘을 가지는지 질문한다.
함경아의 설치작 <모나리자와 북에서 온 타자들>(2015)은 북한 장인들이 제작한 자수 모나리자를 우연히 발견한 것에서 시작됐다. "체제가 인정하는 예술 양식만 존재하는 곳에서 서양 미술사의 맥락과 가치에 대한 지식이 없는 북한 사람들은 이 유명한 여인을 어떻게 인식할까"라는 의문을 가진 작가는 탈북자들의 인터뷰를 시도해 북한에서의 삶, 탈북, 남한에서의 정착 문제 등 방대한 진술을 영상으로 기록했다. 서양미술의 대표적 도상인 모나리자에 관한 북한 주민의 이야기는 함경아의 고유한 작업 방식을 통해 추상적이고 입체적인 구조의 모나리자를 새롭게 형성, 서양미술사의 부계적 재현을 탈코드화한다.
[Source from Artspace and Asia Now websites]