Jenny Holzer Presents New Installations for MMCA Commissioned Project Jenny Holzer: FOR YOU | KUKJE GALLERY
Jenny Holzer Presents New Installations for MMCA Commissioned Project Jenny Holzer: FOR YOU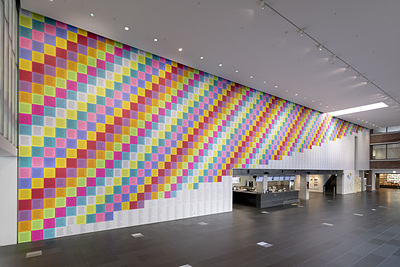 Installation view of MMCA Commissioned Project FOR YOU: JENNY HOLZER
, The National Museum of Modern and Contemporary Art, Korea, 2019. Courtesy of 2019 Jenny Holzer, member Artists Rights Society (ARS), NY/ Society of artist copyright of Korea (SACK), Seoul
Artist: Jenny Holzer (제니 홀저)
Exhibition Dates: Nov 23, 2019 - July 5, 2020
Exhibition Venue: National Museum of Modern and Contemporary Art, Seoul & Gwacheon
(국립현대미술관, 서울관, 과천관)
Website:
www.mmca.go.kr/eng/exhibitions/exhibitionsDetail.do?exhId=201911140001205
The world-renowned American conceptual artist Jenny Holzer presents MMCA Commissioned Project
Jenny Holzer: FOR YOU
at Seoul Box, the lobby of the National Museum of Modern and Contemporary Art (hereafter MMCA), Seoul, and the outdoor space of the MMCA Gwacheon through July 5, 2020. The MMCA Commissioned Project spearheads collaborations leading international contemporary artists in order to generate a new platform for discourse on contemporary art on the museum premises. In 2019, the MMCA has collaborated with Jenny Holzer who utilizes language as her primary medium, experimenting with incisive poetic and aphoristic text to directly engage pressing social issues and injustice, and to provide a voice for the marginalized. Holzer's works conceptually transform the museum space by encouraging debate and reflection on an array of compelling issues.
Installed on the wall of the first floor lobby at the MMCA Seoul,
Inflammatory Essays
and
Truisms
have been translated into Korean for the first time ever. Comprised of over 250 brief alphabetized statements,
Truisms
concern the oftentimes ironic construction of personal and societal beliefs, mores, and truths. Influenced by Holzer's readings of political, utopian, art, religious, and other manifestos,
Inflammatory Essays
are a collection of 100-word texts. In Seoul Box, Holzer's new monumental LED work titled
FOR YOU
foregrounds the voices of five contemporary female authors—Kim Hyesoon, Han Kang, Emily Jungmin Yoon, Svetlana Alexievich, and Hawzhin Azeez—who give voice to those bereft of human rights by manmade tragedies of today. At the MMCA Gwacheon, Holzer presents a selection of eleven
Truisms
, permanently engraved onto the railing of a stone bridge in the outdoor sculpture garden. In this project, Holzer actively engages with and addresses pressing issues by encouraging reflections on collective concerns and personal anxieties, further broadening the possibilities of public engagement with art.
제니 홀저, 국립현대미술관 커미션 프로젝트 《당신을 위하여: 제니홀저》에서 신작 발표
미국의 대표 개념미술가 제니 홀저의 MMCA 커미션 프로젝트 《당신을 위하여: 제니 홀저》가 국립현대미술관 서울박스와 로비, 과천의 야외 공간에서 2020년 7월 5일까지 전시된다. 'MMCA 커미션 프로젝트'는 국제적인 작가와의 협업을 통해 미술관 공간에 새로운 담론을 이끌어 낼 작품을 선보이고자 마련된 국립현대미술관의 대규모 프로젝트다. 2019년에는 언어를 매체로 사회적 문제를 공론화하고, 소외된 이들의 목소리를 드러내는 작업을 전개해온 제니 홀저와의 프로젝트를 통해 미술관 공간을 동시대 고민을 나누는 공론의 장으로 변모시킨다.
먼저 서울관 1층 로비 벽면에 설치된 <경구들>과 <선동적 에세이>는 이번 프로젝트를 위해 국문으로 번역되어 최초로 한글 버전으로 선보이는 작품이다. <경구들>은 개인과 사회의 관습, 통용되는 진실의 모순을 파고드는 250개의 문장들로 이루어져 있다. 함께 설치된 <선동적 에세이>는 각각 100개의 단어로 이루어진 에세이 컬렉션으로 작가가 접한 정치, 유토피아, 예술, 종교에 관한 글과 선언문 등에 영감 받아 제작되었다. 서울박스에 설치된 <당신을 위하여>는 이번 프로젝트를 통해 새롭게 선보이는 LED 신작으로 현대 여성 문학 작가인 김혜순, 한강, 에밀리 정민 윤(Emily Jungmin Yoon), 스베틀라나 알렉시예비치(Svetlana Alexievich), 호진 아지즈(Hawzhin Azeez)의 글을 차용하여 선보인다. 작품은 '여성' 화자들을 통해 근현대 인간이 만들어낸 재난으로 인해 인권을 유린당한 평범한 이들의 이야기를 전한다. 과천관으로 이어지는 전시에서는 야외 조각 공원에 위치한 석조 다리 난간에 11개의 경구들을 새긴 영구 설치작품이 공개된다. 제니 홀저는 이번 프로젝트를 통해 우리의 '삶의 문제'를 다루고, 관객들이 이에 대해 고민하게 함으로써 예술의 공공성을 더욱 확장한다.
[Source from the MMCA press release, website, and handout texts]