Park Seo-Bo Participates in Marking Time: Process in Minimal Abstraction, Group Exhibition at the Solomon. R. Guggenheim Museum, New York | KUKJE GALLERY
Park Seo-Bo Participates in Marking Time: Process in Minimal Abstraction, Group Exhibition at the Solomon. R. Guggenheim Museum, New York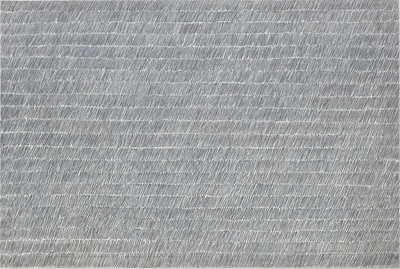 Park Seo-Bo, Ecriture No. 55-73, 1973, graphite and oil on canvas, 195.3 x 290.7 x 3.8 cm, Solomon R. Guggenheim Museum, New York, Gift, the Samsung Foundation of Culture, 2015.50
Artist: Park Seo-Bo (박서보)
Exhibition Dates: Dec 18, 2019 - Aug 02, 2020
Exhibition Venue: Solomon. R. Guggenheim Museum in New York, USA (뉴욕 구겐하임 미술관)
Website:
www.guggenheim.org/exhibition/marking-time-process-in-minimal-abstraction
The internationally acclaimed painter Park Seo-Bo, who was announced as the recipient of the 64th National Academy of Arts of the Republic of Korea Award last December, is currently participating in a group exhibition titled
Marking Time: Process in Minimal Abstraction
(on view through August 2, 2020) at the Solomon. R. Guggenheim Museum in New York, USA. Featuring a roster of world-renowned abstract painters including Park Seo-Bo, Agnes Martin, and Roman Opałka, this exhibition explores how artists operating in a variety of contexts foregrounded process as they forged new approaches to abstraction. As can be inferred from the title, this exhibition invites viewers to imaginatively reenact aspects of the creative process, allowing for an intimate understanding of the duration, intensity, and rhythm that each works required.
For this exhibition, Park Seo-Bo introduces
Ecriture
No. 55-73
from his "pencil écriture" series which was inspired by his young son's unschooled handwriting. Applying countless pencil lines on a canvas painted in white, such repetitive action does not imply the process of drawing something new but emptying oneself. The action of drawing countless lines with pencil incorporates materiality, spirituality, and the process of drawing as a tool for self-cultivation and emptying. The exhibition also includes work from the Polish conceptual artist Roman Opałka's
1965/1–∞
series and the Indian abstract artist Zarina's
Untitled
(1977), which frames abstract painting with the foundations of meditation. Park will also open a solo exhibition in Kukje Gallery's newly renovated K1 space this coming March.
박서보, 뉴욕 구겐하임 미술관 그룹전 《Marking Time: Process in Minimal Abstraction》 참가
지난 12월 제64회 대한민국예술원상 미술 부문 수상자로 선정되는 등 국내외로 활발한 활동을 이어가고 있는 박서보가 뉴욕 구겐하임 미술관에서 열리는 그룹전 《Marking Time: Process in Minimal Abstraction》(2020년 8월 2일까지)에 참가한다. 박서보를 비롯해 아그네스 마틴(Agnes Martin), 로만 오팔카(Roman Opałka) 등 세계적인 추상 화가들의 작품들로 구성된 이번 전시는 추상에 이르는 다양한 방식들을 탐구한다. 제목이 시사하듯 작가가 작품을 완성하기까지의 시간과 노고, 반복적인 수행의 과정에 주목한 이번 전시는 관객들로 하여금 각 작품의 탄생뿐 아니라 그 이면까지 상상해보도록 한다.
박서보는 어린 아들의 행동에서 착안한 연필묘법 연작인 <묘법(描法) No. 55-73>(1973)을 선보인다. 캔버스에 유백색의 밑칠을 하고 채 마르기 전에 연필로 선긋기를 반복하는 연필묘법은 무언가를 새롭게 그려내는 것이 아닌 비워내는 작업이다. 수없이 반복되는 선 긋기는 물성과 정신성, 작가의 행위가 합일을 이루는 과정으로 곧 '비움'과 '수신'의 도구가 된다. 이번 전시에서는 폴란드 개념 미술가 로만 오팔카의 <1965/1–∞> 연작, 명상적인 추상 작업을 선보이는 인도 예술가 자리나(Zarina)의 <무제>(1977) 등이 함께 선보인다. 한편 박서보는 오는 3월 국제갤러리 K1에서 개인전을 앞두고 있다.
[Source from the Solomon. R. Guggenheim Museum press release]