Louise Bourgeois, Subject of Solo Exhibition Louise Bourgeois: To Unravel a Torment at the Voorlinden Museum in the Netherlands | KUKJE GALLERY
Louise Bourgeois, Subject of Solo Exhibition Louise Bourgeois: To Unravel a Torment at the Voorlinden Museum in the Netherlands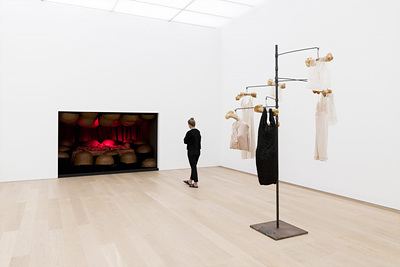 Installation view of Louise Bourgeois – To Unravel a Torment, Museum Voorlinden, Wassenaar, 2019. Photo: Antoine van Kaam. Louise Bourgeois © The Easton Foundation/VAGA at Artists Rights Society (ARS), NY/Pictoright, Amsterdam 2019
Artist: Louise Bourgeois (루이스 부르주아)
Exhibition Dates: Oct 12, 2019 – May 5, 2020
Exhibition Venue: Voorlinden Museum (네덜란드 바세나르 보르린덴 미술관)
Website:
www.voorlinden.nl/exhibition/louise-bourgeois-to-unravel-a-torment/?lang=en
The internationally acclaimed contemporary artist Louis Bourgeois is the subject of a solo exhibition titled
Louise Bourgeois: To Unravel a Torment
at the Museum Voorlinden through May 5, 2020. Widely renowned for her works built on autobiographical experiences, Bourgeois explored a wide range of genres including sculpture, drawing, installation, and sewing, cultivating a distinct oeuvre which transcended prevailing aesthetics and art historical narrative. The exhibition, which marks the first comprehensive retrospective for the artist to be held in the Netherlands in nearly three decades, introduces over 40 works that shed light onto her artistic experimentation and innovation.
Standing on the grounds of Voorlinden towards the entrance of the museum is
Maman
(1999), the largest of Bourgeois' famous spiders, which reminisces on memories of her mother. Upon entering the gallery, the viewer encounters one of Bourgeois' early masterpieces,
The Destruction of the Father
(1974), which expresses the artist's resistance against her dictatorial father and the toxic patriarchy that consumed her family, by highlighting gender differences through the juxtaposition of the male penis and the female breast created with latex and plaster. The sculpture series
Personage
(1940-1950s) serves not only as a figurative representation of friends and family the artist had to leave behind when she moved from France to New York, but also as a metaphor for the fear and emptiness she felt as a wife, mother, and young artist during that time. Meanwhile, the exhibition stays relevant to the audience regardless of their age and background by presenting a wide breadth of works including Bourgeois' theatrical installation series
Cells
, which depicts the paradoxical meaning of "home" as a place of both haven and suppression.
루이스 부르주아(Louis Bourgeois), 네덜란드 보르린덴 미술관에서 개인전 《Louise Bourgeois: To Unravel a Torment》 개최
현대미술의 거장 루이스 부르주아(Louis Bourgeois)의 개인전 《Louise Bourgeois: To Unravel a Torment》가 네덜란드 보르린덴 미술관에서 2020년 5월 5일까지 열린다. 자전적 경험을 바탕 한 작업으로 잘 알려진 루이스 부르주아는 조각, 드로잉, 설치, 그리고 손바느질 작업에 이르기까지 다양한 장르를 통해 기존의 양식이나 미술사조로 설명할 수 없는 독자적인 예술세계를 구축해왔다. 네덜란드에서 30년 만에 열리는 대규모 개인전인 이번 전시는 작가의 예술적 실험과 도전이 담긴 40여 점의 작품들을 선보인다.
전시장으로 향하는 정원에 설치된 <Maman>(1999)은 작가의 어머니에 대한 기억을 주제로 한 작품으로 국내에서도 잘 알려진 대로 어미 거미를 형상화한 초대형 조각이다. 전시장 내부에는 그의 초기 대표작인 <The Destruction of the Father>(1974)가 공개된다. 라텍스와 석고로 만든 남근, 여성의 유방을 통해 남녀간 성의 대립을 직접적으로 부각시킨 이 작품은 아버지에 대한 작가의 분노와 가부장제의 폭력성에 대한 저항을 담고 있다. 또한 1940년대 후반에서 1950년대 초반에 제작된 조각 연작 <Personage>는 작가가 뉴욕으로 이주했을 당시, 프랑스에 두고 온 가족과 친구들을 상징적으로 재현한 작품으로 당시 아내이자 엄마, 동시에 젊은 작가로서 느끼는 두려움과 공허함이 은유적으로 나타난다. 이 외에도 이번 전시는 보호의 공간이자 억압의 장인 '집'의 역설적 의미를 연극적으로 재구성한 <Cells>연작 등 개인적인 이야기를 통해 보편적인 시대와 국경을 초월해 공감을 이끌어내는 루이스 부르주아의 다채로운 작품들을 펼쳐 보인다.
[Source from Museum Voorlinden website]