Na Kim, Subject of Solo Exhibition Bottomless Bag at Buk-Seoul Museum of Art | KUKJE GALLERY
Na Kim, Subject of Solo Exhibition Bottomless Bag at Buk-Seoul Museum of Art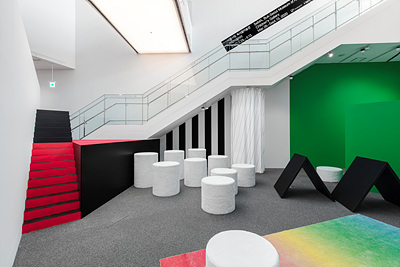 Installation view of Bottomless Bag, Buk-Seoul Museum of Art, Seoul Museum of Art, 2020. Photo: Unreal Studio ⓒ 2020 Seoul Museum of Art All rights reserved
Artist: Na Kim(김영나)
Exhibition Dates: Mar 26 – Sep 13, 2020 * Available for viewing from May 6, 2020. RSVP at
www.yeyak.seoul.go.kr/reservation/view.web?rsvsvcid=S200504110149254014
Exhibition Venue: Children's Gallery, Buk-Seoul Museum of Art(서울시립 북서울미술관 어린이갤러리)
Website:
www.sema.seoul.go.kr/ex/exDetail?exNo=497062&glolangType=ENG&searchDateType=CURR&museumCd=ORG08
The graphic designer Na Kim is the subject of a solo exhibition titled
Bottomless Bag
at the Seoul Museum of Art's (hereafter SeMA) Buk-Seoul Museum of Art (hereafter Buk-SeMA) branch through September 13, 2020. This presentation marks the 14th edition of the children's exhibition to take place at the museum. Widely recognized for her multifaceted practice that spans art and design, Kim reshapes her use of visual language to an unprecedented dimension by combining the formal elements of graphic design.
Bottomless Bag
owes its title to a little tool bag that used to be sold at stationary stores in front of elementary schools mainly during the 1980s to the 1990s. On view will be a selection of 11 works including murals, installations, and video which embody the moments and memories attached to objects from the past.
The Children's Gallery, in which the exhibition is held, is transformed into Kim's very own "bottomless bag," revealing the artist's unique exploration into and relationship with her collection of archived objects. The idea of 'collecting,' which is the central theme for SeMA this year as well as a representation of Kim's design methodology, suggests the importance of archived objects by reflecting upon the value and beauty of everyday life. The exhibition presents eight new works including the video installation
RYB and G
(2020) and print installation
Self Portrait
(2020), along with three earlier works including
2'13", 4.6 Meters
(2019), a set of three spiral staircases painted in primary colors, previously displayed at the Gwangju Design Biennale last September. Beck Jee-sook, Director of SeMA, has remarked: "By perceiving graphic design as a method for communication, the audience will be encouraged to cultivate a level of visual literacy which will allow them to interpret, critically assess, and create their own images upon encountering Kim's unique design methodology and visual language through this exhibition."
김영나, 서울시립 북서울미술관에서 어린이 전시 《물체주머니》 개최
그래픽 디자이너 김영나의 개인전 《물체주머니》가 서울시립 북서울미술관에서 2020년 9월 13일까지 열린다. 북서울미술관이 14번째로 마련한 어린이 전시인 김영나의 개인전은 디자인과 미술을 넘나들며 전방위적으로 활동하는 작가가 고유의 디자인적 사고를 통해 시각 언어를 새롭게 재배치한 자리다. 전시 제목인 '물체주머니'는 1980-90년대 학교 앞 문방구에서 팔던 학습 도구 주머니 이름으로, 《물체주머니》는 추억의 사물들에 깃든 시간과 기억을 담은 벽화, 설치, 영상 등 총 11여 점의 작품을 선보인다.
전시 공간은 디자이너의 '물체주머니'로 김영나가 수집과 아카이빙을 통해 발견한 사물의 의미를 작가만의 규칙으로 해석하고 관계를 만들어 나가는 방식을 펼쳐 보인다. 2020년 서울 시립미술관의 기관 의제인 동시에 김영나의 디자인 방법론인 '수집'은 수집을 통해 발견한 사물의 의미를 체험함으로써, 일상의 가치와 아름다움을 성찰하는 태도를 제안한다. 전시는 영상 설치작 <빨강, 노랑, 파랑 그리고 녹색>(2020), 평면 설치작 <자화상>(2020)을 포함한 신작 8점을 새롭게 선보이며, 지난 9월 광주비엔날레에서 선보인 삼원색의 나선형 계단형 작품 <2분 13초, 4.6 미터>(2019)도 함께 공개된다. 백지숙 서울시립미술 관장은 이번 전시를 통해 "디자인은 소통의 언어라는 관점에서 김영나의 디자인적 사고와 시각 언어를 통해 관람자들이 이미지를 해석하고 비판하고 창조하는 시각적 문해력(visual literacy)을 기를 수 있기를 기대한다"라고 밝혔다.
[Source from the Buk-SeMA press release]