Kukje Gallery Announces the Representation of Daniel Boyd | KUKJE GALLERY
Kukje Gallery Announces the Representation of Daniel Boyd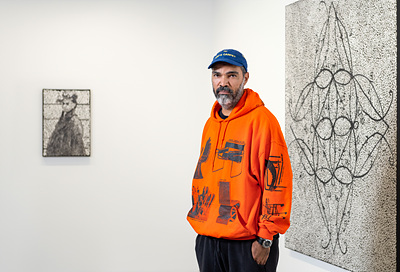 Artist portrait of Daniel Boyd. Photo: Chunho An
Kukje Gallery is pleased to announce the representation of the Australian artist Daniel Boyd. Last December, Kukje Gallery Busan showcased Boyd's solo exhibition
Recalcitrant Radiance
, which marked the artist's first encounter with the Korean audiences. Following the success of this much anticipated presentation, Boyd's signature works are currently on view at the gallery's online viewing room,
kukje ON
. Going forward, Kukje Gallery will be introducing a comprehensive selection of Boyd's works to both local and international audiences, with a focus on enhancing Boyd's artistic potential and expanding his worldwide presence as one of Australia's most acclaimed young artists.
Daniel Boyd, who was born in 1982 in the coastal city of Cairns, Australia, engages with his Aboriginal heritage by consistently reinterpreting established perspectives of Australian colonial history. The artist's paintings are covered with clear white dots of glue, which are superimposed onto images of icons that played significant roles in the formation of the nation's history. In each painting, a dot acts as a "lens" through which the artist views the world. Using a technique that borrows from Australian Aboriginal dot painting, these numerous lenses facilitate the artist to read the world as multiple histories, as opposed to a singular narrative. Amalgamating the dualities between black and white, darkness and light, the viewer takes on an active role in connecting the domains between the positive and the negative, and realigning the viewpoints between the past and present. Hence, the artist offers the viewers with an opportunity to fill and enlighten the dark void of the unknown with individual knowledge and different backgrounds, completing the picture as one enters and exits through disparate vantage points.
About the Artist
Daniel Boyd is based in Sydney and has exhibited his work internationally since 2005. Boyd has participated in major biennales and exhibitions including
All the World's Futures
, 56th Venice Biennale, Venice (2015) curated by Okwui Enwezor and
Mondialito
curated by Hans Ulrich Obrist and Asad Raza at the Boghossian Foundation. He was the recipient of the 2014 Bulgari Art Award, and his works are in the collections of the Natural History Museum, London; Kadist Collection, Paris; National Gallery of Australia, Canberra; Tasmanian Museum and Art Gallery, Hobart; National Gallery of Victoria, Melbourne; Art Gallery of New South Wales, Sydney; as well as numerous private collections.
국제갤러리, 다니엘 보이드(Daniel Boyd)와 전속계약
국제갤러리는 최근 호주 출신 작가 다니엘 보이드(Daniel Boyd)와 공식 전속계약을 체결했다. 국제갤러리는 지난 2019년 12월 부산점에서 열린 다니엘 보이드의 개인전 《항명하는 광휘(Recalcitrant Radiance)》를 통해 국내에서는 처음으로 작가를 소개한 바 있다. 현재 국제갤러리의 온라인 뷰잉룸 '국제 온(kukje ON)'에서도 그의 대표작을 살펴볼 수 있으며, 향후에도 명실상부 호주 대표 작가인 다니엘 보이드의 다채로운 작업 및 가능성을 국내외 관객 및 고객에게 더욱 적극적으로 알리고 공유할 예정이다.
1982년 호주 케언즈(Cairns)에서 태어난 다니엘 보이드는 원주민 출신으로, 자신의 배경을 바탕으로 호주의 역사를 새로운 관점으로 꾸준히 재해석해왔다. 그의 회화에는 호주 역사 형성 과정에서 주요 역할을 한 다양한 이미지가 등장하는데, 상당 부분이 풀(glue)로 찍은 하얗고 투명한 점들로 뒤덮여 있다. 각 점은 작가가 세상을 바라보는 일종의 '렌즈'로, 수많은 렌즈를 통해 세상을 단일한 역사 구조가 아닌 다수의 서사로 읽어내고자 하는 의도를 담고 있다. 또한 흑과 백, 어둠과 빛 간의 양극을 적극적으로 연결하고 합치시킨 그의 작품은 보는 이로 하여금 회화를 독해하고 과거와 현재 사이의 시점을 재조율하게 한다. 이로써 작가는 어둠과 미지의 영역을 각자의 지식, 배경, 상상력으로 채워 밝히며, 새로운 의미의 가능성을 타개해야 한다고 피력하고 있다.
작가소개
다니엘 보이드는 2015년 오쿠이 엔위저(Okwui Enwezor)가 기획한 제56회 베니스 비엔날레 《모든 세계의 미래(All the World's Futures)》, 2017년 한스 울리히 오브리스트(Hans Ulrich Obrist)와 아사드 라자(Asad Raza)가 부뤼셀의 보고시안 파운데이션에서 기획한 《몬디알리토(Mondialito)》 등에 주요 전시에 참여했다. 2014년 불가리 미술상을 수상하였으며, 그의 작품은 캔버라의 호주 내셔널 갤러리, 호바트의 타즈마니아 박물관, 멜버른의 내셔널 빅토리아 갤러리, 시드니의 뉴사우스웨일스 아트 갤러리 등 호주 대부분의 주요 기관뿐 아니라 런던 자연사 박물관과 파리의 카디스트 컬렉션 등 세계적인 유수 기관에 소장되어 있다. 현재 호주 시드니에 거주하며 작업하고 있다.