Haegue Yang, Kira Kim, Kyungah Ham, and Suki Seokyeong Kang Participate in Group Exhibition Collecting for All at the Seoul Museum of Art | KUKJE GALLERY
Haegue Yang, Kira Kim, Kyungah Ham, and Suki Seokyeong Kang Participate in Group Exhibition Collecting for All at the Seoul Museum of Art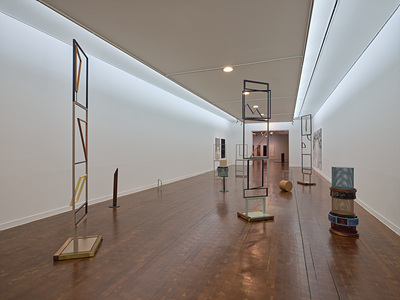 Installation view of Collecting for All, Seoul Museum of Art, Korea, 2020 ⓒ 2020 Seoul Museum of Art All rights reserved
Artists: Haegue Yang(양혜규), Kira Kim(김기라), Kyungah Ham(함경아), Suki Seokyeong Kang(강서경)
Exhibition Dates: Apr 16 – Jun 14, 2020 * Available for viewing from May 6, 2020. RSVP at
www.yeyak.seoul.go.kr/reservation/view.web?rsvsvcid=S200421085040042177
Exhibition Venue: Seoul Museum of Art(서울시립미술관)
Website:
www.sema.seoul.go.kr/ex/exDetail?currentPage=1&glolangType=ENG...
The contemporary artists Haegue Yang, Kira Kim, Kyungah Ham, and Suki Seokyeong Kang are participating in the group exhibition
Collecting for All
, held at the Seoul Museum of Art through June 14, 2020. The exhibition, curated to provide a closer look into the museum's collection of 5,173 works accumulated since 1985, presents 86 works from the collection, along with 45 works by artists from the collection.
Each of the six galleries located across the main branch of the museum addresses an independent theme. The Reference Room celebrates the accomplishments of female artists whose works frame varying artistic and historical discourses, one of which is Suki Seokyeong Kang's installation
Black Meanders
(2011-2016) constructed of 18 different units. Displayed alongside Kang's work is Haegue Yang's installation
Yes-I-Know-Screen
(2011), which brings together doors used for Korean traditional housing in the form of folding screens.
Floating Village_Song of Jaeryang Wi
(2015), a collaborative video piece produced by Kira Kim and Hyungkyu Kim, is projected at the Collective Lab. Upon entering the Media Theater, visitors can engage with
Le Tricheur
, a painting by the 17th century French artist Georges de La Tour, followed by Kyungah Ham's new media work,
The Sharper and Fortune Teller
(2009), which narrates the tale of a charlatan and a fortune teller. Other galleries of the exhibition include: the Green Library, featuring a collection of books on nature; the Performance Stage, showcasing performance art; and the Crystal Gallery, introducing an interactive light installation.
강서경, 김기라, 양혜규, 함경아 서울시립미술관 그룹전 《모두의 소장품》 참가
현대미술가 강서경, 김기라, 양혜규, 함경아가 참여하는 그룹전 《모두의 소장품》이 2020년 6월 14일까지 서울시립미술관 서소문 본관에서 열린다. 우리 모두의 문화 자산인 소장품을 가까이서 보고 누릴 수 있도록 마련된 이번 그룹전은 서울시립미술관이 지난 1985년부터 수집한 총 5,173점의 소장 작품 중 86점과 소장 작가들의 작품 45점을 선보이는 대규모 전시로 꾸려진다.
전시는 서소문 본관 전관에 걸쳐 총 여섯 개의 공간으로 나누어 진행된다. 다양한 예술, 역사를 참조하여 작업하는 여성 작가들의 소장품으로 구성된 '레퍼런스 룸'에서는 총 18점의 개별 단위들이 모인 강서경의 설치작 <검은 유랑>(2011-2016)과 한국 전통 가옥에서 쓰였던 문을 병풍 형태로 연결한 양혜규의 설치작 <그래-알아-병풍>(2011)이 전시된다. 김기라는 김형규 작가와 함께 작업한 비디오 작품 <떠다니는 마을_위재량의 노래>(2015)를 '콜렉티브 랩'에서 선보인다. '미디어 씨어터'에서는 17세기 프랑스 화가 조르주 드 라투르(Georges de La Tour)의 <사기꾼>과 <점쟁이>를 모티프로 한 함경아의 뉴미디어 작품 <사기꾼과 점쟁이>(2009)를 관람할 수 있다. 이 외에도 자연을 주제로 한 소장품과 다양한 주제의 책 컬렉션을 만날 수 있는 '그린 라이브러리', 퍼포먼스 기반의 작품들로 꾸려진 '퍼포먼스 스테이지', 빛을 활용한 환상적인 소장품으로 구성된 '크리스탈 갤러리'를 통해 우리 삶의 면면을 담은 다채로운 소장품들을 만날 수 있다.
[Source from the Seoul Museum of Art press release]