Elmgreen & Dragset Participate in Group Exhibition OH! MY CITY at PARADISE ART SPACE, Incheon | KUKJE GALLERY
Elmgreen & Dragset Participate in Group Exhibition OH! MY CITY at PARADISE ART SPACE, Incheon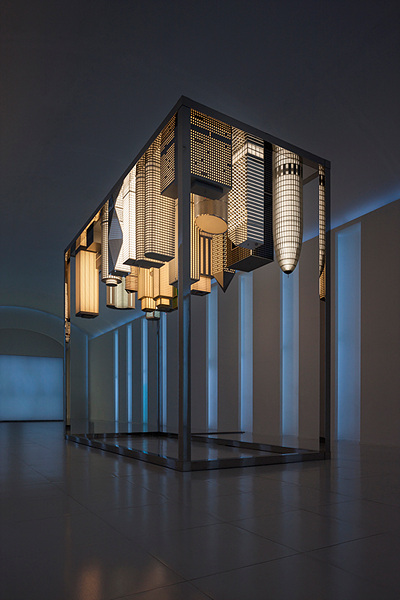 Elmgreen & Dragset, City in the Sky, 2019, stainless steel, steel, aluminium acrylic glass, LED lights, 400 x 500 x 220 cm. Courtesy of the Artists, Kukje Gallery, Massimo De Carlo, and Perrotin. Photo: Myungrae Park.
Artists: Elmgreen & Dragset (엘름그린 & 드라그셋)
Exhibition Dates: June 18 – Oct 4, 2020
Exhibition Venue: PARADISE ART SPACE, Incheon, Korea
Website:
www.p-city.com/front/artSpace/overview
The artist duo Elmgreen & Dragset are currently participating in the group exhibition
OH! MY CITY
held at PARADISE ART SPACE in Incheon. The exhibition, which presents the works of five international contemporary artists including Anibal Catalan and Chiharu Shiota, explores the multilateral meanings of cities, extending beyond their physical boundaries. Known for their signature humor and poignant sarcasm against social clichés and cultural structures pervasive in everyday life, Elmgreen & Dragset present three works that reinterpret conventional cityscapes.
Installed within Paradise Walk, the hallway that connects PARADISE ART SPACE to Paradise City, is
City in the Sky
(2019)—a large-scale installation that depicts a scaled model of an imaginary city, flipped upside down. This marks the first time this work has been showcased in Korea. Inspired by financial centers being built in megacities such as Hong Kong, Shanghai, and London,
City in the Sky
portrays the complex layers and aspirations that impact the cityscape as the competition among global metropolises intensifies. The artists expanded on this idea, creating a kaleidoscopic overview of a fictional urban landscape in which illuminated skyscrapers are rendered as post-architectural archetypes, prompting viewers to imagine their own ideal city.
The Observer (Kappa)
(2019), installed in PARADISE ART SPACE, displays a lone figure deep in thought, casually leaning over the railing of a balcony. The balcony transgresses boundaries, being at once private and public, and the work represents a portrait of an individual observing the myriad features of a city. Facing
The Observer (Kappa)
is a new variation of
Powerless Structures, Fig. 429
(2012), of which the original version was first introduced at the Echigo-Tsumari Satoyama Museum of Contemporary Art KINARE in 2013. The exhibition, which provides an opportunity to experience the everyday city from an artistic perspective, runs through October 4, 2020.
엘름그린 & 드라그셋, 인천 파라다이스 아트스페이스 그룹전 《OH! MY CITY》 참가
작가 듀오 엘름그린 & 드라그셋(Elmgreen & Dragset)이 인천 파라다이스 아트스페이스에서 열리는 그룹전 《OH! MY CITY》에 참여한다. 엘름그린 & 드라그셋을 비롯하여 아니발 카탈란(Anibal Catalan), 시오타 치하루(Chiharu Shiota) 등 현대미술가 5인의 작품들로 꾸려지는 이번 전시는 물리적 차원을 넘어 다양한 의미의 공간으로서의 도시를 조명한다. 일상과 도시에 만연한 문화구조에 질문을 제기하고, 특유의 위트와 비판정신으로 재해석해온 엘름그린 & 드라그셋은 이번 전시에서 도시의 풍경을 새로운 관점으로 매개한 작품 3점을 선보인다.
특히 가상의 도시를 뒤집은 형태의 작품 <City in the Sky>(2019)는 작품통로 공간인 파라다이스 워크에 설치되어 국내에서 첫 선을 보인다. 홍콩, 상하이, 런던 등 세계 금융 중심지에서 영감 받은 이 작품은 대도시들 간의 고조된 경쟁과 야망을 함축하며, 도시의 마천루를 따라 빛나는 빛은 관객들로 하여금 각자가 꿈꾸는 이상적인 도시를 상상하게 한다. 이어지는 전시장에 설치된 <The Observer(Kappa)>(2019)는 공과 사의 경계인 발코니에서 홀로 사색에 잠긴 인물 형상을 나타낸 작품으로, 도시의 다양한 양상을 관찰하는 어느 개인의 자화상을 상징한다. 또한 지난 2013년 일본 에치고 쓰마리 사토야마 현대미술관 KINARE에서 공개되었던 <Powerless Structures, Fig. 429>(2012)는 전시장 내 공간에서 새로운 구성으로 소개된다. 익숙한 공간인 도시를 예술의 관점으로 바라볼 수 있는 기회를 제공하는 이번 전시는 오는 10월 4일까지 계속된다.
[Source from PARADISE ART SPACE press release]