Bill Viola, Subject of a Major Solo Exhibition at the Busan Museum of Art(BMA), Korea | KUKJE GALLERY
Bill Viola, Subject of a Major Solo Exhibition at the Busan Museum of Art(BMA), Korea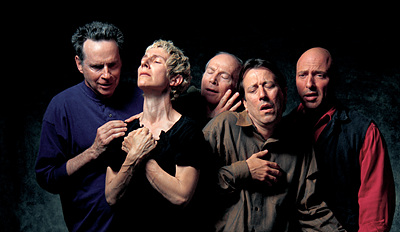 Bill Viola, The Quintet of the Astonished, 2000 © Bill Viola Studio
Artist: 빌 비올라 (Bill Viola)
Exhibition Dates: October 21, 2020 – April 4, 2021
Exhibition Venue: Busan Museum of Art (BMA)
Website:
https://art.busan.go.kr/eng/03_display/display01.jsp?amode=view&id=202009281450331996
Bill Viola, the internationally acclaimed video artist who addresses fundamental and existential themes by portraying the sublime in universal experiences including life and death, presence and absence, along with human and nature, is the subject of a major solo exhibition titled
Bill Viola: ENCOUNTER
at the Busan Museum of Art (hereafter BMA), Korea, through April 4, 2021. The exhibition is held as part of the second edition of the museum's annual program 'Lee Ufan and His Friends,' which was inaugurated in 2019. Viola's artistic vocabulary, which combines Western methodology with Eastern philosophy, is considered to draw an art historical parallel with the work of Lee Ufan. Viola's meditative yet innovative works, created throughout the past four decades, are presented across the main building of the BMA, as well as Space Lee Ufan.
Upon entering the main building of the museum, visitors first encounter works created in between 1995 and 2014. These include
The Greeting
(1995), first showcased at the Venice Biennale in 1995, and
Martyrs
(2014), a series of four panels commissioned for a permanent installation in St. Paul's Cathedral in London.
Martyrs
, in particular, received much attention across the global art scene at the time as it was unconventional for a cathedral to commission a video as opposed to a traditional painting. The 7-minute-long work, consisting of four plasma screens, reinterprets the ideas of martyrdom within a contemporary context by depicting four individual figures each enduring the excruciating pain caused by one of the four natural elements—earth, water, air, and fire. Displayed at Space Lee Ufan are some of Viola's earlier works created in the 1970s such as
Migration
(1976) and
The Reflecting Pool
(1977-79), which demonstrate the artist's contemplation on portraying vital themes including the underlying structure of human existence and relationship between mankind and the rest of the world through video.
빌 비올라, 부산시립미술관에서 개인전 《빌 비올라, 조우》 개최
비디오아트의 거장 빌 비올라는 오는 2021년 4월 4일까지 열리는 부산시립미술관에서의 개인전을 통해 삶과 죽음, 존재와 부재, 물질과 정신, 인간과 자연 등 세계의 본질을 관통하는 작업세계를 펼쳐 보인다. 2019년부터 진행된 부산시립미술관 연례 기획인 '이우환과 그 친구들'의 일환으로 개최되는 이번 전시는 동양적인 사상 위에 서구적인 방법론을 가미한 빌 비올라의 작업 세계가 미학적 접근의 면에서 이우환 작가와 그 맥락을 함께 하고 있음을 보여준다. 전시는 미술관 본관과 이우환 공간을 아우르며 빌 비올라의 초기작부터 최근작까지, 지난 40여 년 간 이어져온 명상적이고도 실험적인 작업 등을 폭넓게 감상할 수 있는 기회를 제공한다.
미술관 본관에서는 1995년부터 2014년에 거의 20여 년에 걸쳐 제작된 작품이 전시된다. 1995년 베니스 비엔날레에서 선보였던 <인사>(1995), 런던 세인트 폴 성당에 영구 설치된 <순교자>(2014) 연작 등 주요 전시작을 만날 수 있다. 특히 <순교자> 연작은 비올라가 세인트 폴 성당의 의뢰로 제작한 작업으로, 당시 전통 회화가 아닌 비디오아트라는 점에서 전세계 미술계의 큰 주목을 받은 바 있다. 물, 불, 흙, 공기 등 '자연의 4요소'가 가하는 극한의 고통을 견디는 인간상을 담은 7분짜리 네 가지 영상은 순교에 대한 현대적 해석을 제시한다. 이우환 공간에서 전시 중인 초기작 <이주>(1976), <투영하는 연못>(1977-79) 등은 1970년대 당시 작가가 비디오라는 매체를 통해 제기하고자 했던 '인간과 세계와의 관계와 본질적인 존재 구조'에 대한 고찰 그리고 이를 향한 예술적 고뇌를 증명한다.
[Source from Busan Museum of Art(BMA) website]