Elmgreen & Dragset reveal The Hive, a permanent site-specific installation at the Moynihan Train Hall, New York | KUKJE GALLERY
Elmgreen & Dragset reveal The Hive, a permanent site-specific installation at the Moynihan Train Hall, New York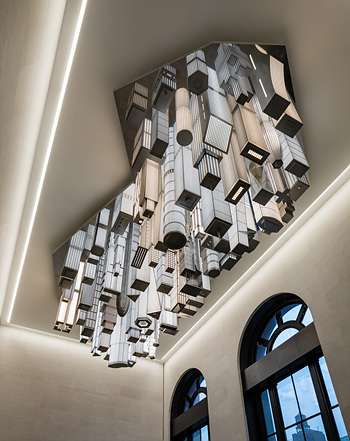 Elmgreen & Dragset, The Hive, 2020, stainless steel, aluminum, polycarbonate, LED lights, and lacquer
Commissioned by Empire State Development in partnership with Public Art Fund for Moynihan Train Hall
Courtesy Empire State Development and Public Art Fund, NY
Photo: Nicholas Knight
Artist: 엘름그린 & 드라그셋(Elmgreen & Dragset)
Exhibition Dates: January 1, 2021 –
Exhibition Venue: Moynihan Train Hall, New York
Website:
https://www.publicartfund.org/exhibitions/view/mth/
On New Year's Day of 2021, the artist duo Elmgreen & Dragset revealed their permanent site-specific installation titled
The Hive
(2020) at the Pennsylvania Station in New York. Presented in celebration of the opening of the new Moynihan Train Hall—a major feature of the recent expansion undergone by the station—the work is suspended from the ceiling of the 31st Street Mid-block Entrance Hall. By offering a contemporary interpretation on the history and grandeur of the original Pennsylvania Station, Elmgreen & Dragset's monumental installation, which depicts a kaleidoscopic overview of an imagined urban landscape inspired by iconic high-rise buildings from metropolises around the world such as New York, captures the multiplicity and synergies of these global megacities, bringing a sense of wonder at the extraordinary progression of technology and artistic vision. The title of the installation refers to the complex relationship between natural and human-built structures, which resembles the constantly evolving architecture of a beehive.
The Hive
, which consists of 91 buildings that weigh over 1.3 tons and measure up to 2.7 meters, maintains a surreal and anti-gravitational appearance due to its inverted structure. Integrating more than 72,000 LED lights that outline the tightly clustered skyscrapers, the installation illuminates the entrance of the station day and night, evoking a sense of "interconnectedness" that symbolizes the station and the city itself. Rendered as post-architectural archetypes, the iconic buildings of
The Hive
construct complex layers that pay tribute to the diversity modern cities, prompting viewers to envision their very own imaginary cities. Along with
The Hive
, the station welcomes visitors with a series of public art installations commissioned through a partnership between Empire State Development and Public Art Fund, as part of New York Governor Andrew M. Cuomo's visionary transformation of the nation's busiest transportation hub.
엘름그린 & 드라그셋, 뉴욕 모이니한 기차 홀(Moynihan Train Hall)에 영구 설치작 <The Hive>(2020) 공개
2021년 1월 1일, 작가 듀오 엘름그린 & 드라그셋은 뉴욕 펜실베니아 역(Pennsylvania Station) 내부에 영구 설치한 장소특정적 작품 <The Hive>(2020)를 공개했다. 이번 작업은 해당 역의 대규모 증축 사업의 일환으로 설계된 뉴욕 31번가 모이니한 기차 홀(Moynihan Train Hall) 개장을 기념하여 홀 입구 천장에 자리하게 되었다. 펜실베니아 역의 고유한 역사와 웅장한 분위기를 현대적으로 재해석한 이 대형 설치작은 뉴욕을 포함한 세계 주요 대도시에서 착안한 가상 도시의 마천루를 통해 현대 도시에 내재된 복합적인 정체성과 이들 간의 시너지를 표현하고, 인류가 이룩한 경이로운 기술적 진보와 예술적 상상력을 상기시킨다. 작품명인 'The Hive'는 끊임없이 유동적으로 진화하는 벌집의 형태를 연상케 하는 도시의 자연적, 인위적 구조 사이의 복잡한 관계성을 가리킨다.
최고 높이 2.7m, 무게 1.3톤에 달하는 91개의 건물 형상들이 뒤집힌 형상인 <The Hive>는 위아래가 반전된 형태를 통해 중력을 거스르는 듯한 초현실적인 분위기를 풍긴다. 빽빽하게 모인 건물들을 따라 빛나는 72,000여 개의 LED 조명은 밤낮으로 역의 입구를 비추며, 기차역이 상징하는 대도시의 '상호 연결성'을 보여준다. 세계 중심지들을 움직이게끔 하는 다양성을 향한 존중의 의미를 담은 <The Hive>는 현대인들에게 이상적인 도시란 무엇인가 상상하고 반추할 수 있는 기회를 제공한다. 한편 펜실베니아 역을 미국 동부의 교통 요충지이자 뉴욕 최대규모의 기차역으로 발전시키고자 하는 앤드류 쿠오모 뉴욕 주지사의 포부를 담은 모이니한 기차 홀 곳곳에서는 엠파이어스테이트개발공사(Empire State Development)와 퍼블릭 아트 펀드(Public Art Fund)의 협업 하에 제작된 다양한 현대미술 작가들의 공공미술 커미션 작업을 만나볼 수 있다.
[Source from Public Art Fund press release]