Dansaekhwa Works by Kwon Young-Woo, Park Seo-Bo, and Ha Chong-Hyun Join the Centre Pompidou Permanent Collection | KUKJE GALLERY
Dansaekhwa Works by Kwon Young-Woo, Park Seo-Bo, and Ha Chong-Hyun Join the Centre Pompidou Permanent Collection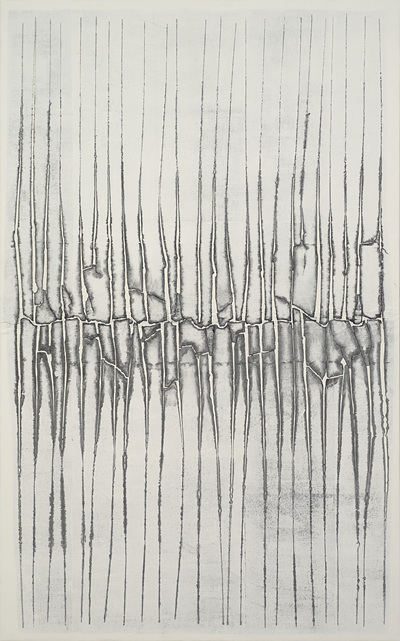 Kwon Young-Woo, Untitled, 1984, gouache, Chinese ink on Korean paper, 259 x 162 cm. Courtesy of the artist's estate and Kukje Gallery
Artist: 박서보 (Park Seo-Bo), 권영우 (Kwon Young-Woo), 하종현 (Ha Chong-Hyun)
Website:
https://www.centrepompidou.fr/en/collections/visual-arts
The Centre Pompidou in Paris recently announced that it will add works by three of Korea's most celebrated modern artists, Park Seo-Bo, Kwon Young-Woo, and Ha Chong-Hyun, to its permanent collection. The Centre Pompidou, widely recognized as one of the three largest museums in France along with the Louvre and the Musée d'Orsay, houses one of the world's most celebrated modern and contemporary art collection of approximately 120,000 works, encompassing visual art, photography, new media, film, and design. Considered the largest in Europe, the museum's collection comes second only to that owned by the Museum of Modern Art (MoMA) in New York.
The four works that will become part of the Centre Pompidou's permanent collection include: two colored
hanji
works by Kwon Young-Woo; one work from Park Seo-Bo's color
Écriture
series; and one work from Ha Chong-Hyun's signature
Conjunction
series. All three artists celebrated as masters of Dansaekhwa—the seminal art movement that emerged in postwar Korea and showcased a unique form of Korean modernism—the addition of these works to the Centre Pompidou's permanent collection not only reinforces the representation of Korean art within the global art scene, but also provides an important point of departure for extensive art-historical discourse surrounding the movement.
Kwon Young-Woo's two signature colored
hanji
works from the 1980s,
Untitled
(1984) and
Untitled
(1986), feature surfaces repeatedly punctured with numerous holes, that are then saturated with ink that fills in the spaces in distinctive patterns. Painted with both Western (gouache) and Eastern (Chinese ink) mediums, these works showcase the artistry with which Kwon allowed color to permeate into the paper's torn edges. These paintings provide a backdrop for the unpredictable encounter between the paper and ink, thereby effectively highlighting the materiality of
hanji
. Distinguished by its simple yet dynamic aesthetic, Park Seo-Bo's
Écriture (描法) No. 120103
(2012) belongs to the artist's late
Écriture
series which reflects a uniquely Korean spirituality. The series, often also referred to as "color
Écriture
" due to its vibrant palette, gives insight to Park's technical approach and philosophy of becoming unified with nature, thus emptying the mind and achieving a higher level of awareness. Ha Chong-Hyun's
Conjunction 85-022
(1985) demonstrates Ha's exploration of his internationally celebrated technique of
bae-ap-bup
, a singular method of pushing paint from the back to the front of the burlap canvas. Thick layers of paint that seep through the front are liberally transformed by the artist using a wide range of tools such as knives, brushes, and wooden spatulas, which Ha appropriately modifies in order to create patterns that accentuate the pictorial plane; achieved through this process is the "conjunction" between material and performance.
Dansaekhwa has become synonymous with a generation of artists who experienced first-hand the social and political upheaval in 1970s Korea, and who fought for a more liberal approach to visual art practice. Specifically, these artists expanded studio practice to incorporate the language of performance on various two-dimensional surfaces, adopting innovative and often unorthodox technical methods as well as a meditative philosophical perspective.
Since its establishment, Kukje Gallery has supported important Dansaekhwa artists including Kwon Young-Woo, Park Seo-Bo, Ha Chong-Hyun, and Lee Ufan. As a part of the "Collateral Events" at the Venice Biennale in 2015, the gallery mounted an unprecedented exhibition of Dansaekhwa artists, celebrating these important figures and providing essential context to recognize their historical contributions. The following year, the gallery launched another special exhibition in collaboration with the Boghossian Foundation in Brussels, titled
When Process Becomes Form: Dansaekhwa and Korean Abstraction
. In 2018, Shanghai's Powerlong Museum opened
Korean Abstract Art: Kim Whanki and Dansaekhwa
, the first-ever comprehensive exhibition of Korean abstract art to be held in China, which established a platform for continued dialogue on the aesthetic impact and ongoing importance of Dansaekhwa internationally.
파리 퐁피두 센터, 권영우, 박서보, 하종현 작가 단색화 작품 영구 소장
파리 퐁피두 센터(Centre Pompidou)가 한국 화단을 대표하는 세 작가 권영우, 박서보, 하종현의 작품을 영구 소장한다고 밝혔다. 루브르 박물관, 오르세 미술관과 함께 프랑스 3대 미술관으로 손꼽히는 퐁피두 센터의 근현대미술 컬렉션은 시각 예술, 사진, 뉴미디어, 영화, 디자인 등 다양한 장르를 아울러 12만여 점에 이르며, 이는 유럽 내 최대이자 뉴욕 현대미술관에 이은 세계 두 번째 규모다.
퐁피두 센터는 권영우의 채색 한지 회화 2점, 박서보의 색채묘법 1점, 하종현의 접합 1점 등 총 4점을 소장한다. 세 작가는 한국 현대미술의 대표적인 흐름이자 성과로 평가받는 단색화(Dansaekhwa)를 대표하는 거장들이다. 퐁피두 센터의 단색화 작품 소장은 국제무대에서 한국미술의 위상을 보여줌과 동시에 해외 미술사적 맥락 속에서 단색화의 학문적 가치에 대한 심도 있는 고찰이 더욱 활발해질 것이라는 기대를 낳고 있다.
권영우(1926-2013)의 채색 한지 회화 2점 <Untitled>(1984)와 <Untitled>(1986)는 화면 전체를 일정하게 반복적인 패턴으로 채워가듯 구멍을 뚫고 선을 만들어 염료를 흘린 1980년대 대표작이다. 서양의 과슈와 동양의 먹으로 채색된 본 작품에는 종이의 찢긴 부분으로 물감이 자연스럽게 스며들어 있다. 이처럼 한지에 물감이 스며드는 우연적 현상을 활용한 작업 방식은 한지의 재료적 물질성을 극대화시켜 보여준다. 간결함과 단아함이 돋보이는 박서보(b.1931)의 <
Écriture
No. 120103>(2012)은 한국의 고유한 정신성을 바탕으로 한 '후기묘법' 연작이다. 풍부한 색감의 대비 혹은 조화가 강조되어 '색채묘법'이라고도 일컬어지는 '후기묘법'은 자연과의 합일을 통해 마음을 비워내고 수신을 일깨우는 행위를 지향한다. 하종현(b.1935)의 접합 연작 <Conjunction 85-022>(1985)는 작가의 독창적인 작업 방식인 배압법(背押法)을 보여준다. 올이 굵은 마포 뒷면에 두터운 물감을 바르면서 앞면으로 배어 나온 걸쭉한 물감 알갱이들은 나이프나 붓, 나무 주걱과 같은 도구를 사용한 작가의 개입으로 다시 자유롭게 변주되고, 마침내 물질과 행위의 흔적이 결합된 결과물로 완성된다.
단색화는 1970년대 한국의 정치적, 사회적 현실을 경험한 세대의 작가들이 각기 다른 고유한 평면에 당시로서는 파격적인 전통적 그리기의 접근을 시도하며 혁신적인 미학 담론을 발전시켜왔다. 작가의 고유한 행위성과 촉각성 그리고 정신성이 고스란히 담겨있는 단색화 작품들은 일종의 '수행(performance)'과도 같은 제작 방식에 바탕한다.
국제갤러리는 그간 권영우, 박서보, 하종현, 이우환 등 단색화 작가들을 세계 미술계에 적극적으로 소개해왔다. 2015년 베니스 비엔날레에서는 공식 병행전시인 《단색화》 특별전을 통해 유수의 작가들을 소개하고 그들의 미술사적 기여도를 기념하는 자리를 가진 바 있으며, 2016년에는 벨기에 브뤼셀의 보고시안 재단과 협력하여 《과정이 형태가 될 때: 단색화와 한국 추상미술》 특별전을 개최했다. 이 기념비적인 전시들은 곧 단색화 열풍을 이끌며 한국 미술사에 활력을 불어넣었다. 2018년에는 상하이 소재의 파워롱미술관에서 한국 추상미술을 대규모로 소개하는 중국 내 최초의 전시 《한국의 추상미술: 김환기와 단색화》를 개최해 국제적으로 단색화의 미학과 가치에 대한 담론을 형성했다.
[Source from the Kukje Gallery press release]