Suki Seokyeong Kang and Hong Seung-Hye participate in OCI Museum's 10th Anniversary Exhibition, Interlaced | KUKJE GALLERY
Suki Seokyeong Kang and Hong Seung-Hye participate in OCI Museum's 10th Anniversary Exhibition, Interlaced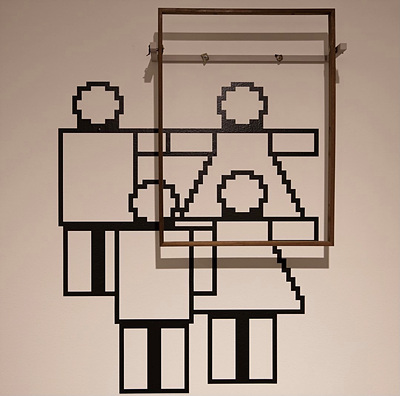 Hong Seung-Hye & Suki Seokyeong Kang, Jeong — Head 3-2 #20-01 & Human Nature, painted steel, wood frame, brass bolts, leather scraps, 57.5 × 46.5 × 17 cm, 2015-2020 & adhesive vinyl on wall, dimension variable, 2020
Courtesy of the OCI Museum of Art
Artists: Hong Seung-Hye(홍승혜), Suki Seokyeong Kang(강서경)
Exhibition Dates: Oct 22, 2020 – Dec 19, 2020
Exhibition Venue: OCI Museum, Seoul, Korea
Website:
http://ocimuseum.org/portfolio-item/%ea%b9%8d%ec%a7%80/
The contemporary artists Suki Seokyeong Kang and Hong Seung-Hye are participating in
Interlaced
, OCI Museum's 10th anniversary exhibition. The presentation, which splits participating artists into pairs, showcases a range of works revolving around the number 10, created by ten contemporary artists who have formed a particular bond with the museum throughout its decade-long history. The resulting exhibition explores visual harmony and tension created between the artists, who each display a unique artistic style. Kang and Hong, both represented by Kukje Gallery, come together to reveal a refreshing perspective on how their works can be viewed when displayed alongside each other.
Acclaimed for her longstanding practice that explores geometric patterns with organic forms, Hong uses this exhibition as an opportunity to present organic and rhythmic structures that break free from the vertical and horizontal pixel grid. Displayed at one corner of the gallery space is
About Frame
(2020), Hong's new work in grayscale that actively incorporates the use of negative space; shown alongside is
Human Nature
(2020), featuring a rhythmic structure between three pictographic figures.
Jeong — Head 3-2 #20-01 & Human Nature
(2020), a collaborative work between the two artists, presents one of Kang's work from her
Jeong
series—inspired by the traditional musical notation system jeongganbo from the Joseon Dynasty—wittily layered with Hong's pictographic figure fixed on the wall. These two works, originally two individual structures, reveal a simple yet sculptural characteristic in the process of becoming one. Meanwhile, Kang's work,
Narrow Meadow #19-02
(2013-2019)—which blends the modern with the traditional by utilizing materials including
hwamunseok
, wood, and leather—is displayed across Hong's.
Interlaced
, introducing five innovative artistic approaches by ten artists, runs through December 19, 2020.
강서경, 홍승혜, OCI미술관 개관 10주년 기념 그룹전 《깍지》 참가
현대미술가 강서경과 홍승혜가 OCI미술관 개관 10주년 기념 그룹전 《깍지》에 참여한다. 10이라는 숫자에 맞춰 지난 10년간 미술관과 특별한 인연을 맺은 10명의 현대미술가들의 작업을 두 명씩 한 쌍으로 묶어 선보이는 이번 전시는, 각자만의 독특한 매력을 가진 작가들이 짝을 이뤘을 때 발생하는 시각적 조화와 긴장감을 탐구한다. 이번 전시에서 국제갤러리 소속작가인 강서경과 홍승혜는 서로 합을 맞춰, 둘의 작업을 함께 혹은 나란히 감상했을 때 발견할 수 있는 새로운 면모들을 소개한다.
오랜 기간 조형미술의 기하학 유형을 유기적인 형태로 다양하게 펼쳐온 홍승혜는 이번 전시에서 픽셀의 수직과 수평의 그리드를 벗어난 유기적이고 리듬감 있는 형태의 작품을 선보인다. 전시장 한 켠에는 공간과 여백의 활용이 돋보이는 작가의 흑백 신작 <About Frame>(2020)과 세 가지 인물 픽토그램 간의 리듬감이 돋보이는 <Human Nature>(2020)가 설치되어 있다. 이와 나란히 전시되어 있는 <정 井 — 머리 3-2 #20-01 & Human Nature>(2020)는 강서경과 홍승혜의 협업 작품으로, 조선시대의 정간보를 참조한 강서경의 <정 井> 연작 중 한 작품이 벽 위에 고정되어 있는 홍승혜의 인물 픽토그램 위를 재치 있게 교차하고 있는 모습을 볼 수 있다. 독립적인 개체로 존재하던 두 작가의 작품은 이렇게 구조적으로 융화되며 단순하면서도 입체적인 면모를 동시에 보여준다. 강서경의 작품은 홍승혜의 것을 마주한 채 전시되어 있는데, 이 중 <좁은 초원 #19-02>(2013-2019)는 작가의 대표작으로 화문석, 나무, 가죽 등의 재료를 활용하며 전통을 기반으로 현대적 표현 방식을 표방한다. 총 10명의 작가들이 각기 다른 방식으로 선보이는 다섯 개의 깍지를 신선한 해석으로 풀어내는 전시는 오는 12월 19일까지 개최된다.
[Source from OCI Museum website]