a'strict Unveils Monumental Public Art Project at Times Square | KUKJE GALLERY
a'strict Unveils Monumental Public Art Project at Times Square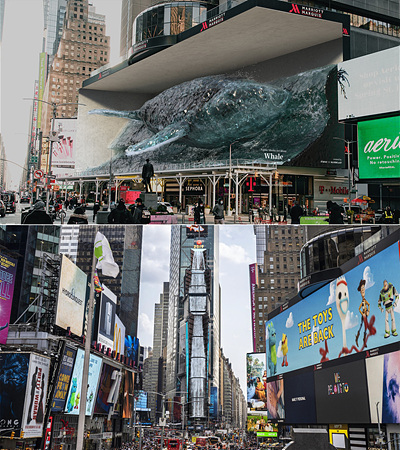 Rendered images of Whale #2 (top) and Waterfall-NYC (bottom), 2021
Courtesy of the artist and Kukje Gallery
© 2021. a'strict. All rights reserved.
Artist: a'strict (에이스트릭트)
Exhibition Dates: July 16, 2021 – August 2, 2021
Venue: Times Square, New York, USA
The Korean media artist unit a'strict will showcase two site-specific art installations in New York City's Times Square from July 16 through August 2, 2021. The first work, titled
Whale #2
(2021), will be screened daily once every hour and half-hour on the dot from 12PM to 12AM EDT for one minute from July 16 through July 27, 2021. The second work, titled
Waterfall-NYC
(2021), will be screened once every hour on the dot for one minute from July 27 through August 2, 2021.
Illuminating the pedestrian plaza at the center of the iconic Times Square,
Whale #2
occupies a 1,400㎡-large screen that transforms the electronic display board into a hyperrealistic, undulating ocean environment occupied by a massive blue whale.
Waterfall-NYC
is installed on the exterior of One Times Square, using four vertical screens for a total height of 102.5 meters. The commanding cascade of water creates a compelling and overpowering presence amidst the city's iconic red brick buildings and steel-framed architecture. These two monumental pieces of public art signal a'strict's debut in the United States, highlighting the power of public art to transcend national borders in the age of a worldwide pandemic. In the thick of a hot New York summer, these digital depictions of water are sure to capture the attention of and serve as a moment of repose for pedestrians who flock to this famous tourist destination, effectively serving as a global statement both in and outside of the art world for a'strict.
With a heightened commitment to the social functions of art since their solo exhibition at Kukje Gallery in 2020, a'strict's upcoming project at Times Square frames its objective to create spaces for rest and relaxation to a wide global audience. Powerfully evoking the subject of nature in an otherwise urban environment filled with towering skyscrapers, a'strict explores the boundless possibilities of technology within the field of contemporary art to fundamentally reframe the world-famous landmark; at the crux of art, culture, and commerce, the project utilizes innovative digital technology to generate a landscape that blends art into life through unprecedented scale and perceptual effects.
에이스트릭트, 뉴욕 타임스스퀘어(Times Square)에서 대규모 퍼블릭 아트 공개
한국의 미디어 아티스트 유닛 에이스트릭트(a'strict)가 2021년 7월 16일부터 8월 2일까지 미국 뉴욕 타임스스퀘어(Times Square)에서 두 점의 공공미술 작업 <Whale #2>(2021), <Waterfall-NYC>(2021)를 순차적으로 선보인다. (<Whale #2>는 2021년 7월 16일(금) – 2021년 7월 26일(월), 낮 12시부터 밤 12시까지 매 정시와 30분에 1분간 상영(EDT), <Waterfall-NYC>는 2021년 7월 27일(화) – 2021년 8월 2일(월), 매 정시에 1분간 상영(EDT) 예정이다).
<Whale #2>는 타임스스퀘어 중심에 위치한 광장(Pedestrian Plaza)을 밝히는 약 1400㎡ 크기의 전광판 전체를 파도의 움직임에 따라 역동적으로 춤추는 고래의 형상을 통해 입체적 공간으로 탈바꿈하여 초현실적 장면을 연출한다. <Waterfall-NYC>는 원타임스스퀘어(One Times Square)의 외부 벽면에 총 4개의 스크린으로 구성된 높이 102.5m의 전광판을 이용한 작업으로, 뉴욕에서 흔히 볼 수 있는 적벽돌 건물 및 철골 구조물 위로 시원한 물줄기를 쏟아내는 거대한 폭포가 강렬하면서도 압도적인 분위기를 자아낸다. 에이스트릭트가 미국에서 선보이는 첫 번째 작업인 이번 작품들은 여름의 절정이라는 계절적 배경과 함께 팬데믹 시대를 관통하는 현 시점에 국경을 초월하는 공공미술의 역할과 한국 미디어 아티스트의 존재를 다시금 증명하며, 대중들에게 위안을 선사함은 물론 전 세계 미술계 안팎에서도 크게 주목받을 것으로 예상된다.
지난 2020년 국제갤러리에서의 개인전 이후 미술의 사회적 역할에 더욱 주목해온 에이스트릭트는 글로벌 관객층에게 감각적, 심리적 여유와 쉼을 제공하고자 하는 일종의 사회 공헌의 취지로 이번 뉴욕 타임스스퀘어 공공미술 프로젝트를 준비했다. 각종 마천루와 광고판이 즐비한 예술, 문화, 상업의 중심지에서 공개되는 두 작품은 현대 도시와 대조되는 자연이라는 소재를 첨단의 디지털 기술을 이용해 현실 공간으로 불러와 일상 속 예술이 직조할 수 있는 가장 생경한 풍경을 만들어낸다.
[Source from Kukje Gallery press release]