Works by Alexander Calder on View at the High Museum of Art, Atlanta, Georgia | KUKJE GALLERY
Works by Alexander Calder on View at the High Museum of Art, Atlanta, Georgia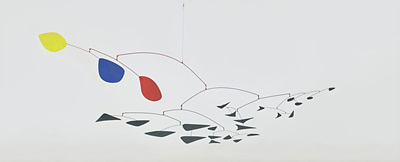 Alexander Calder, Untitled, 1956, sheet metal, wire, and paint, Calder Foundation, New York. © 2021 Calder Foundation, New York/Artists Rights Society (ARS), New York. Photo courtesy of Calder Foundation, New York/Art Resource, New York.
Artist: Alexander Calder (알렉산더 칼더)
Exhibition Dates: June 26 – Sept 19, 2021
Exhibition Venue: High Museum of Art, Atlanta, Georgia
Website: https://high.org/exhibition/calder-picasso/
Works by Alexander Calder, one of the foremost figures of 20
th
-century art, are on view at the two-person exhibition titled
Calder-Picasso
at the High Museum of Art in Atlanta, Georgia, from June 26 through September 19, 2021. This touring exhibition, which debuted in 2019 at the Musée Picasso-Paris, presents more than one hundred paintings, sculptures, and works on paper spanning Calder's and Picasso's careers that reveal the radical innovation and enduring influence of their art. Conceived by the artists' grandsons, Alexander S. C. Rower and Bernard Ruiz-Picasso, and organized by the Museum of Fine Arts, Houston, the exhibition focuses on the artists' ceaseless reexamination of form, line, and space.
Exploring the visual and thematic interplay between these two masters of modern art, the exhibition highlights both the already apparent and heretofore unremarked connections. Calder and Picasso first met in Paris at the former's exhibition opening in 1931; the two artists were aware of each other's work, but didn't directly comment on the other's art on record.
Calder-Picasso
establishes a channel for "non-verbal communication" between two artists who were not in direct contact during their lifetimes. While their works belong to completely different categories of modern art, select works in the exhibition display striking formal similarities. One of Calder's
Constellations
sculptures is shown next to Picasso's
Woman in an Armchair
(1947), both for which the artists deployed colored polygons in a matrix of heavy black lines.
The exhibition also includes other iconic wire figures, paintings, drawings, revolutionary nonobjective mobiles, stabiles, and standing mobiles by Calder including
La Grande Vitesse
(1969),
Aztec Josephine Baker
(1930), and
Vertical Foliage
(1941) in juxtaposition with those of Picasso, framing how each artist pushed the boundaries of modernism.
알렉산더 칼더, 미국 애틀랜타 하이 미술관 2인전 《Calder-Picasso》 참가
20세기 미술의 거장 알렉산더 칼더는 2021년 6월 26일부터 9월 19일까지 미국 애틀랜타 하이 미술관에서 열리는 2인전 《Calder-Picasso》에 참가한다. 지난 2019년 파리 국립 피카소 미술관에서의 전시를 시작으로 순회 중인 본 전시는 근대미술사에 한 획을 그은 칼더와 파블로 피카소의 혁신, 그리고 현재까지 다양한 방식으로 지속적인 영향을 미치는 이들의 작업세계를 조명하는 100점 이상의 회화, 조각, 종이작업 등을 소개한다. 두 작가의 손자인 알렉산더 S. C. 로어(Alexander S. C. Rower)와 베르나르드 루이즈-피카소(Bernard Ruiz-Picasso)가 기획하고 휴스턴 미술관이 주최한 이번 전시는 특히 두 거장의 작업에 나타나는 형태, 선, 그리고 공간에 대한 끊임없는 탐구와 고찰에 주목한다.
근대미술 거장들의 시각적, 주제적 상호 작용을 살펴보는 이번 전시는 이미 알려져 있으나 깊이 다뤄진 적 없는 두 작가의 연관성을 조명한다. 칼더와 피카소는 1931년 칼더의 파리 전시 오프닝 자리에서 처음 만났다. 서로의 작업에 대해 익히 알고는 있었지만 이후 공식적인 협업이나 대화가 전무했다는 사실에 착안, 이번 전시는 두 거장이 생전에 나누지 못한 예술적인 소통의 '비언어적 버전'으로 기획되었다. 이들의 작업은 근대미술 안에서 전혀 다른 카테고리로 분류되지만, 둘 사이의 명백한, 형식적인 공통점을 목격할 수 있다. 예컨대 칼더의 조각 시리즈 <Constellations>와 병치된 피카소의 <Woman in an Armchair>(1947), 이 두 작품에 공히 그물처럼 빽빽하게 그어진 굵은 검정색 선들 사이 형형색색의 다각형들이 놓여 있음을 알 수 있다.
이번 2인전은 <La Grande Vitesse>(1969), <Aztec Josephine Baker>(1930), <Vertical Foliage>(1941)를 비롯한 칼더의 대표적인 와이어 인물 조각, 회화, 드로잉, 그리고 당시 혁신으로 평가받은 추상주의 모빌, 독립형 모빌, 그리고 스태빌 등을 대거 만나볼 수 있는 자리다. 칼더의 다양한 작품들과 피카소의 대표 작품들을 함께 다룸으로써, 작가들이 각기 자신의 미술사적 위치에서 어떤 방식으로 모더니즘의 한계를 증폭시켰는지 엿볼 수 있는 흔치 않은 기회를 제공한다.
[Source from the High Museum of Art website]