Jenny Holzer Reveals HURT EARTH, a Series of Large-scale Light Projections across the UK | KUKJE GALLERY
Jenny Holzer Reveals HURT EARTH, a Series of Large-scale Light Projections across the UK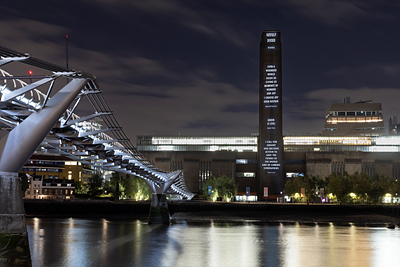 Jenny Holzer, HURT EARTH, 2021
© 2021 Jenny Holzer, member Artists Rights Society (ARS), NY / DACS, UK
Photo: Adam Kenrick
Artist: Jenny Holzer
Exhibition Venues & Dates:
October 29 – 31, 2021 Tate Modern, London, UK
November 8, 2021 Edinburgh Castle, Edinburgh, UK│SEC Armadillo, Glasgow, UK
November 9 – 11, 2021 Met Tower, Glasgow, UK
November 12 – 14, 2021 Pop-up locations across Edinburgh, UK
Website:
https://artforyourworld.wwf.org.uk/blog/40-news-jenny-holzer-hurt-earth-at-tate-modern-supporter-spotlight/
The American contemporary artist Jenny Holzer recently revealed a series of large-scale light projections, under the title
HURT EARTH
(2021), across the UK. This project coincides with the 26th annual United Nations Climate Change Conference of the Parties (COP26), which takes place in Glasgow and brings together leaders and delegates from approximately 120 countries. Intended to raise awareness of the climate crisis—one of the greatest challenges faced by humanity today—
HURT EARTH
launched at London's Tate Modern and has traveled to major UK landmarks including Edinburgh Castle, the SEC Armadillo, and the Met Tower, and will be followed by a series of pop-up locations in Edinburgh through November 14, 2021.
For the past four decades, Holzer has utilized text as her primary medium to address pressing social issues and advocate political justice. For
HURT EARTH
, the artist has projected excerpts of writings, testimonies, speeches, and interviews from approximately 40 international leaders and activists onto different buildings, highlighting the precarious state of the climate crisis—an issue Holzer has always followed closely. Of the texts incorporated into the artwork includes a quote by the Swedish environmental activist Greta Thunberg, "IF WE CHOOSE TO ACT TOGETHER THERE ARE NO LIMITS TO WHAT WE CAN ACCOMPLISH," along with one by Theodore Roosevelt, the 26th President of the United States, "THERE IS NOTHING MORE PRACTICAL IN THE END THAN THE PRESERVATION OF BEAUTY." The use of such determined and intuitive language compellingly highlights the alarming intensity of climate change.
Inviting viewers to contemplate the bleak reality of the climate crisis, the sentences projected onto the façade of each building transforms what was once a familiar edifice into an entirely new piece of architecture. At a time when solidarity and collective action are most needed in order to address the current climate crisis, Holzer's work initiates essential discourse on social and political activism within the art world.
제니 홀저, 영국 전역에 초대형 프로젝션 작업 <HURT EARTH>(2021) 공개
미국의 현대미술가 제니 홀저가 초대형 프로젝션 작업 <HURT EARTH>(2021)를 영국 전역에 선보인다. 기후위기에 대응하기 위해 세계 120여 개국의 정상이 참가, 영국 글래스고에서 개최되는 제26차 유엔기후변화협약 당사국총회(COP26)를 맞이해 기획된 본 프로젝트에서 작가는 기후변화라는 공통의 과제에 직면한 전세계에 경종을 울리는 메시지를 전한다. 작품은 런던의 테이트모던을 시작으로 오는 11월 14일까지 에든버러 성, SEC 아르마딜로, 메트 타워 등 영국의 주요 랜드마크에서 순차적으로 전시된다.
제니 홀저는 지난 40년간 언어를 주요 재료로 삼아 사회적 문제를 공론화하는 작업을 지속해왔다. 본인이 평소 관심 있게 바라본 기후변화 문제를 작업으로 승화한 이번 프로젝트에서 그는 전 세계 40여 명의 환경운동가 및 지도자들의 글과 연설 및 인터뷰에서 발췌한 문구를 건물에 투사하는 방식을 통해 기후위기의 심각성을 강조한다. 홀저는 스웨덴의 10대 환경운동가 그레타 툰베리(Greta Thunberg)의 연설에서 발췌한 "함께 행동하기로 결정한다면 우리가 성취할 수 있는 것엔 한계가 없다(If we choose to act together, there are no limits to what we can accomplish)"와 미국의 26대 대통령 시어도어 루스벨트(Theodore Roosevelt)의 명언 "아름다움을 보존하는 것만큼 실용적인 일은 없다(There is nothing more practical in the end than the preservation of beauty)"등 강경하고도 직관적인 문장들로 고조되는 기후위기에 대한 경각심을 일깨운다.
각 건물의 전면에 투사되는 제니 홀저의 글귀는 현지인들에게 친숙한 건물을 낯설고 새로운 공간으로 변모시킬 뿐만 아니라 이들로 하여금 인류가 당면한 현실을 직시하게 한다. 더 나아가 세계적 의제로 떠오른 기후위기에 대처하는 국제사회의 강화된 행동과 연대가 그 어느 때보다 절실한 지금, 홀저의 프로젝션 작업은 미술을 비롯한 문화예술계 내에서도 환경문제를 둘러싼 담론을 촉발하는 실천적인 예술로 크게 주목받고 있다.
[Source from 'HURT EARTH' press release, provided by Jenny Holzer Studio and Sutton]