Jean-Michel Othoniel, Subject of Major Solo Exhibition The Narcissus Theorem at the Petit Palais, Paris | KUKJE GALLERY
Jean-Michel Othoniel, Subject of Major Solo Exhibition The Narcissus Theorem at the Petit Palais, Paris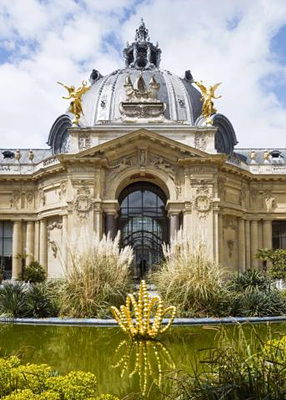 Jean-Michel Othoniel, Gold Lotus, 2019
Courtesy of the artist and Perrotin
© Jean-Michel Othoniel / Adagp, Paris, 2021
Photo: Claire Dorn
Artists: 장-미셸 오토니엘 (Jean-Michel Othoniel)
Exhibition Dates: September 28, 2021 – January 2, 2022
Exhibition Venue: Petit Palais, Paris, France
Website:
https://www.petitpalais.paris.fr/en/expositions/narcissus-theorem
The French contemporary artist Jean-Michel Othoniel is the subject of a major solo exhibition titled
The Narcissus Theorem
, which runs from September 28, 2021, through January 2, 2022, at the Petit Palais in Paris, France. Othoniel's largest exhibition held in Paris since his retrospective
My Way
at the Pompidou Centre in 2011, the comprehensive presentation introduces a collection of approximately 70 new works across the historical museum and its gardens. For the show, the artist demonstrates a magical interpretation of reality that exists in harmony with the culturally enriching venue's natural surroundings, displaying works within the pools of the museum gardens and suspending them from tree branches.
Blue River
(2021), one of the exhibition's most stunning installations installed at the entrance of the stairway to the museum, evokes the glistening surface of a river. Comprised of bricks created in collaboration with Indian glass artisans, the aquamarine and gold-toned work exudes a mystical and spiritual atmosphere. Meanwhile, Othoniel explores the infinite possibilities of the glass bead as a medium and highlights its versatility in both size and form through works including his
Wild Knots
series, rooted in the reflection theory developed by the Mexican mathematician Aubin Arroyo, his long-term friend and collaborator; his
Necklaces
series, which delivers a unique colorful exuberance; and
Crown of the Night
(2008), a beautiful chandelier-shaped glass crown.
장-미셸 오토니엘, 파리 프티 팔레 미술관에서 대규모 개인전 《The Narcissus Theorem》 개최
프랑스 현대미술가 장-미셸 오토니엘의 대규모 개인전 《The Narcissus Theorem》이 파리 프티 팔레 미술관의 초청으로 9월 28일부터 내년 1월 2일까지 개최된다. 지난 2011년 퐁피두 센터에서의 회고전 《My Way》 이후 파리에서 가장 큰 규모로 선보이는 작가의 이번 개인전에서는 유서 깊은 미술관과 정원을 배경으로 한 신작 70여 점을 소개한다. 작품을 물 한가운데 배치하거나 나무에 매다는 등 인류의 문화유산 및 자연과 조화를 이루는 동시에 현실을 초월한 듯한 환상의 세계는 프티 팔레를 찾는 각국의 관객들을 매료시키고 있다.
미술관을 향한 계단을 따라 설치된 <Blue River>(2021)는 이번 전시의 대표작 중 하나로, 다채로운 빛깔로 반짝거리는 푸른색 물결을 연상시킨다. 인도 유리공예장인이 만든 벽돌로 이루어진 작품은 흐르는 물을 닮은 아쿠아마린과 금색의 조화를 보여주며 신비롭고 영롱한 분위기를 연출한다. 한편 작가를 상징하는 유리구슬 작업 또한 고유한 작품으로 변주되어 전시장 곳곳에 자리하고 있다. 멕시코 출신의 젊은 수학자 오빈 아로요(Aubin Arroyo)의 반사이론에서 영감을 얻은 <Wild Knots> 연작, 다채롭게 빛나는 색감이 인상적인 <Necklaces> 연작, 화려한 샹들리에를 연상시키는 대형왕관 모양의 <Crown of the Night>(2008) 등 다양한 형태 및 사이즈의 작품들은 작가가 오랜 기간 매진해온 유리구슬 연작의 확장 가능성을 증명한다.
[Source from The Narcissus Theorem press release]