Hong Seung-Hye Showcases On Stage as part of Project Exhibition IMA Picks 2021 at Ilmin Museum of Art | KUKJE GALLERY
Hong Seung-Hye Showcases On Stage as part of Project Exhibition IMA Picks 2021 at Ilmin Museum of Art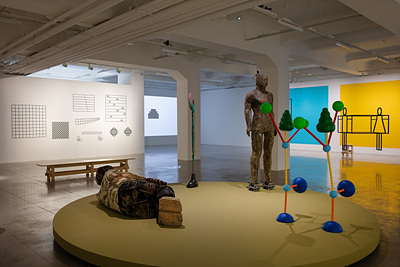 Installation view of On Stage, 2021 at Ilmin Museum of Art, Seoul, Korea
Artists: 홍승혜(Hong Seung-Hye)
Exhibition Dates: November 19, 2021 – February 6, 2022
Exhibition Venue: Ilmin Museum of Art, Seoul, Korea
Website:
https://ilmin.org/exhibition/%e3%80%8aima-picks-2021%e3%80%8b/
The contemporary artist Hong Seung-Hye presents her solo exhibition
On Stage
as part of
IMA Picks 2021
, held at the Ilmin Museum of Art, Seoul, Korea, from November 19, 2021. As the museum's annual project exhibition,
IMA Picks 2021
highlights works by Hong Seung-Hye (b. 1959), Lee Eunsae (b. 1987) and Yun Suknam (b. 1939)—three female artists from discrete generations who have each inspired continuous discourse and shifts in the landscapes of the local and international contemporary art scenes. Each artist is designated a space within the museum's galleries to showcase her work. Hong, who has spent decades constructing a unique practice that traverses between two-dimensional and three-dimensional works by combining and assembling the "pixel"—the basic unit of computer programming—embraces the role of a producer and director, showcasing a comprehensive span of her artistic vocabulary.
Installed on the second floor of the museum,
On Stage
is a "stage" founded on the pixel, sporadically intervened by miscellaneous elements such as floors, walls, a circular stage, furniture, and posters. Hong utilizes this space to show one of her video works alongside five sculptures created by four sculptors who in the past were her students, and currently are her collaborators. The exhibition features aspects of a performance, inviting five performers—each identified as "the artist," "the voice actor," "the audience," "the princess," and "the lover"—who occupy the stage in the form of moving sculptures. On stage, their presence constructs a landscape where art intertwines with life, delivering Hong's message that "art can touch upon the mundanity of everyday life, and that we can thus forge a collective world in which we all foster change." Hong's works, which derive from the organic form of the pixel, brings forth a new reality interweaved with abstract art, where various challenges exist relative to the space in which the works are placed.
On stage
runs through February 6, 2022, featuring performance sessions between 1pm to 5pm every Saturday.
홍승혜, 일민미술관 3인전 《IMA Picks 2021》에서 《무대에 관하여》 개최
현대미술가 홍승혜가 일민미술관의 전시 《IMA Picks 2021》에 참가, 《무대에 관하여》전을 11월 19일부터 선보인다. 이번 전시는 국내외 예술 현장에서 지속적인 담론과 현상을 만들어온 세 명의 작가를 선정하는 일민미술관의 기획전시로, 홍승혜(b.1959)를 비롯해 이은새(b.1987), 윤석남(b.1939) 등 각기 다른 세대를 경험해 온 여성작가 3인이 참가해 각각의 전시를 꾸렸다. 지난 수십 년 동안 컴퓨터 프로그램의 기본 단위인 '픽셀'을 결합, 축적하며 평면과 입체를 넘나드는 작업을 전개해온 홍승혜는 이번 전시에서 연출가 또는 극장장으로 분해 폭넓은 작업을 선보인다.
일민미술관 2층에서 펼쳐지는 《무대에 관하여》는 픽셀에 근거한 무대로, 곳곳에 바닥과 벽, 원형 무대, 가구와 포스터 등이 가설된 장소이다. 홍승혜는 이곳 무대에서 자신의 영상 작업과 함께 제자이자 동료인 4명의 조각가가 제작한 5점의 조각을 선보인다. 퍼포먼스가 가미된 이번 전시에서는 '예술가', '성우', '관객', '공주', '연인'으로 분한 5명의 퍼포머들이 움직이는 조각으로 무대를 채우며 예술적 사건과 삶의 시간이 뒤엉키는 풍경을 만들어내고, 이로써 "예술이 평범한 일상에 닿고, 그로 인해 우리 모두가 공통의 세계를 바꿀 수 있다는 믿음을 표현하고자 했다"는 작가의 의도를 반영한다. 유기적 단위인 픽셀을 응용하여 추상미술을 현실에 개입시켜온 홍승혜의 작업은 이번에도 공간에 관한 여러 도전들이 혼재한 또다른 현실을 탄생시킨다. 내년 2월 6일까지 진행되는 이번 전시는 매주 토요일 오후 1-5시 사이 수시로 퍼포먼스를 선보인다.
[Source from Ilmin Museum of Art's website]