Daniel Boyd Participates in Group Exhibition UN/LEARNING AUSTRALIA at the Seoul Museum of Art, Korea | KUKJE GALLERY
Daniel Boyd Participates in Group Exhibition UN/LEARNING AUSTRALIA at the Seoul Museum of Art, Korea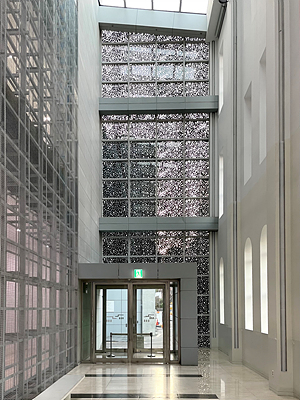 Installation view of Daniel Boyd, Untitled (37°33'51.2"N 126°58'24.4"E) at the Seoul Museum of Art, Korea
Artist: 다니엘 보이드(Daniel Boyd)
Exhibition Dates: December 14, 2021 – March 6, 2022
Exhibition Venue: Seoul Museum of Art, Korea
Website:
https://sema.seoul.go.kr/ex/exDetail?currentPage=1&glolangType=ENG&exGr=&museumCd=&targetDate=&searchDateType=SOON&exSearchPlace=&exNo=650529&startDate=&endDate=&searchPlace=&kwd=EXF01&kwdValue=
The Australian contemporary artist Daniel Boyd is currently part of the group exhibition
UN/LEARNING AUSTRALIA
, held at the Seoul Museum of Art (SeMA), Korea. Co-curated by SeMA and Artspace, Sydney, in celebration of the 60
th
anniversary of diplomatic relations between South Korea and Australia, the exhibition provides a comprehensive overview of Australian contemporary art through the works of 35 Australian artists, collectives, and indigenous art centers. The Korean title of the exhibition, '경로를 재탐색합니다 (rediscover the route),' derives from a phrase often heard while using navigation devices, and is juxtaposed with the English title,
UN/LEARNING AUSTRALIA
. These dual titles aim to highlight the importance of "learning" itself, rather than the purpose of it, referring to the process of unlearning and relearning existing perceptions of Australia. Daniel Boyd, whose practice continuously questions the Western hegemonic gaze in interpreting and restoring the founding history of Australia with a unique artistic vocabulary, presents three of his paintings and one installation in
UN/LEARNING AUSTRALIA
.
Boyd, who comes from an aboriginal background, introduces
Untitled (TDHFTC)
(2021) and
Untitled (UT)
(2021)—two paintings that reinterpret Australian history in a new lens. First showcased at the artist's solo exhibition with Kukje Gallery last June, the paintings each depict Boyd's sister and his grandma's siblings. By sharing these personal images, Boyd connects his personal experiences and heritage to his ongoing interest in recalibrating the historical lens through which we view dominant historical narratives. Through
Untitled (YWSITPIACLDTL)
(2019), which was first shown at Boyd's solo exhibition with Kukje Gallery Busan in 2019, the artist questions the conventional perceptions of beauty.
Untitled (37°33'51.2"N 126°58'24.4"E)
(2021), an installation commissioned by SeMA, entirely covers the museum's glass façade—consisting of countless dots, the work directly references Boyd's signature recurrent motif. These dots act as "lenses" through which one views the world and resemble the plurality and multiplicity of perspectives. The current exhibition discusses the vulnerabilities of this world affected by the unprecedented pandemic and inspires a more in-depth understanding of the values of "learning." The show, which runs through March 6, 2022, can also be viewed through a variety of public programs and channels including the Instagram account
@52artists52actions
.
다니엘 보이드, 서울시립미술관 그룹전 《경로를 재탐색합니다 UN/LEARNING AUSTRALIA》 참가
호주 작가 다니엘 보이드가 서울시립미술관에서 열리는 그룹전 《경로를 재탐색합니다 UN/LEARNING AUSTRALIA》에 참가한다. 한국과 호주 수교 60주년을 기념하여 서울시립미술관과 아트스페이스 시드니가 기획한 이번 전시는 호주의 작가들과 콜렉티브, 토착민 예술 센터 등 35명(팀)을 초대하여 호주의 동시대 미술을 폭넓게 조망한다. 전시명인 '경로를 재탐색합니다'는 우리가 내비게이션에서 주로 접하는 문장으로, 영문 제목 'UN/LEARNING AUSTRALIA'와 함께 배움의 목적보다 배움 그 자체의 실천을 강조하며, 우리가 알고 있는 호주의 모습을 탈학습, 재학습하며 인식을 확장해 나가는 과정을 의미한다. 서구의 일방적인 역사관이 놓친 호주의 역사 형성 과정을 고유한 미술적 방식으로 복원하는 작업을 전개해온 다니엘 보이드는 이번 전시에서 이러한 작업관을 반영한 회화 작품 3점과 설치 작품 1점을 선보인다.
호주 원주민 출신인 작가는 이번 전시에서 자신의 배경에 기대어 호주의 역사를 새로운 관점으로 재해석하는 회화 작품 <무제(TDHFTC)>(2021), <무제(UT)>(2021)를 선보인다. 지난 6월 국제갤러리 개인전에서 선보인 바 있는 두 작품은 각각 작가의 누나, 할머니의 형제를 그린 이미지로, 작가는 오랫동안 역사적 관점에서 제외되어 온 사적 역사를 통해 역사를 이해하는 기존의 관점을 재고한다. 이와 함께 작가는 2019년 국제갤러리 부산점에서의 개인전에서 선보였던 <무제(YWSITPIACLDTL)>(2019)를 선보이며 고정된 아름다움의 기준에 의문을 제기한다. 한편 서울시립미술관의 의뢰로 만든 커미션 작업 <무제(37°33'51.2"N 126°58'24.4"E)>(2021)는 미술관 유리 파사드 전면을 장식한 설치 작품으로 작가의 주요 작업 방식 중 하나인 점으로 이루어져 있다. 각각의 점은 우리가 세상을 바라보는 '렌즈'로, 수많은 점들은 우리가 세상을 이해하고 지각하는 다양한 방식, 즉 복수성(plurality)과 다양성(multiplicity)를 의미한다. 팬데믹의 시대에 우리가 사는 세상의 불확실한 토대를 인정하고, 이를 극복하기 위한 배움의 가치를 다시금 깨닫게 하는 이번 전시는 인스타그램 계정 '52 ARTISTS 52 ACTIONS'(
@52artists52actions
)와 공공 프로그램 등 다채로운 방식으로 만나볼 수 있다(전시는 2022년 3월 6일까지).
[Source from SeMA press release]