SUPERFLEX Reveals Public Installation Project Play Contract at the Skulpturpark Billund in Denmark | KUKJE GALLERY
SUPERFLEX Reveals Public Installation Project Play Contract at the Skulpturpark Billund in Denmark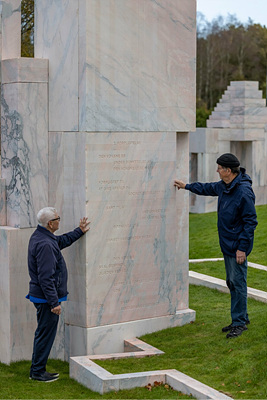 SUPERFLEX, Play Contract, 2021. Photo: Torben Eskerod
Artist: 수퍼플렉스(SUPERFLEX)
Exhibition Dates: Permanent installation
Exhibition Venue: Billund, Denmark
Website:
https://superflex.net/works/play_contract
The Danish artist collective SUPERFLEX recently unveiled their public installation project P
lay Contract
(2021) at the Skulpturpark Billund in Denmark. The installation has been created in celebration of the 10th anniversary of the Capital of Children (CoC) project, set in Billund, the hometown of Lego. CoC, which involves several institutions, foundations, and companies based in Billund, works towards building the city into a place where children are encouraged to experience the world through play, fostering their development into innovative adults with a global mindset. In collaboration with KWY.studio—a Lisbon-based project group consisting of architects, curators, and educators—SUPERFLEX presents
Play Contract
, a set of five sculptures constructed with the help of 121 children in Billund.
Taking into consideration that "most public art is made by adults," SUPERFLEX and KWY.studio invited 121 children to design playground models with Lego blocks, then realized these prototypes in the form of pink marble installations via
Play Contract
. While the sculptures are created from approximately 300 uniquely shaped stones, these stones remain raw and unpolished, exposing the rough surfaces that have been made from the tools that were used to cut them. Written on the walls of the sculptures are "play contracts" as dictated by children, which are to be followed by adults who visit the work. Adults are expected to respect the children's rather absurd and insensible set of rules and embrace their senses and points-of-view.
Play Contract
allows adults to discover the surprises and fun that lie in giving up the control on everyday life. Following the permanent installation of the work at the park,
Play Contract
, a book including relevant stories and images, will be published in the near future.
수퍼플렉스, 덴마크 빌룬 조각공원에 공공미술 설치작품 <Play Contract> 공개
덴마크 출신의 3인조 작가 그룹 수퍼플렉스가 덴마크 빌룬에 위치한 조각공원(Skulpturpark)에 공공미술 작품 <Play Contract>(2021)를 공개한다. 이번 작품은 레고의 고향으로 잘 알려진 빌룬의 '어린이 수도(Capital of Children)' 프로젝트 10주년을 기념하여 제작되었다. 빌룬의 다수의 기관, 재단 및 기업들이 참여하는 '어린이 수도'는 빌룬을 아이들이 놀이를 통해 세상을 배우고, 창의적인 세계 시민으로 성장할 수 있도록 하는 도시로 만들고자 다양한 프로젝트를 진행하고 있다. 수퍼플렉스는 이곳에서 건축가, 큐레이터, 교육가 등으로 구성된 리스본 기반의 프로젝트 그룹 KWY.studio를 중심으로 빌룬의 아이들 121명과 함께 제작한 5개의 조각 작품 <Play Contract>를 선보인다.
<Play Contract>는 '대부분의 공공미술은 어른들의 관점에서 만들어진다'라는 문제의식에서 시작되었다. 이 프로젝트에 초청받은 121명의 아이들은 레고 블록으로 직접 놀이터를 설계하고, 수퍼플렉스와 KWY.studio는 이러한 아이들의 생각을 핑크색 대리석 모형의 5개의 조각으로 구현했다. 조각들은 독특한 모양을 가진 300개의 돌로 만들어져 있는데, 이 돌들은 표면 처리를 하지 않은 날것으로 갖가지 도구들로 잘려진 흔적이 그대로 남아있다. 벽면에는 빌룬의 아이들이 직접 만든 '놀이 규칙'이 새겨져 있는데, 이곳에 방문한 어른들은 이를 따라야 한다. 아이들이 설계한 규칙이 일견 엉뚱하고, 불합리하더라도 전적으로 이들의 감각과 생각을 존중하며 놀이를 실행하는 것이다. 주변을 통제하거나 통제 받는 일상에 익숙했던 어른들은 아이들의 놀이를 통해 예기치 못한 놀라움과 즐거움을 발견하게 된다. 영구 설치되는 이번 작품과 함께 곧 프로젝트에 담긴 이야기와 사진들을 담은 『Play Contract』 도록이 출간될 예정이다.
[Source from SUPERFLEX website]