Bill Viola, Subject of Solo Exhibition Bill Viola at Museum der Moderne Salzburg, Austria | KUKJE GALLERY
Bill Viola, Subject of Solo Exhibition Bill Viola at Museum der Moderne Salzburg, Austria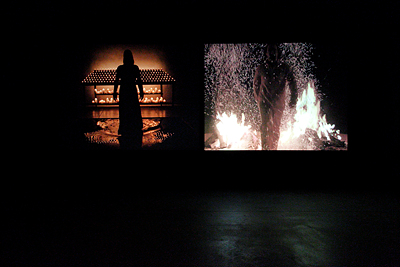 Installation view of Bill Viola at Museum der Moderne Salzburg, 2022
Photo: Rainer Iglar
The pioneering video artist Bill Viola is the subject of an eponymous solo exhibition at Museum der Moderne Salzburg, on view through October 30, 2022. Marking the artist's first extensive solo presentation in Austria, the exhibition provides a comprehensive overview of Viola's practice of over five decades, which explores fundamental and existential themes pertaining to life and death.
Since the 1970s, Viola has continuously experimented with the artistic potential of video, addressing themes of the human body and spirituality. While featuring strikingly powerful, sensational imagery, Viola's work is based on an underlying idea of hope and solidarity, making it ever more relevant in the current era marked by rapid changes and uncertainties. Among the works presented is
The Raft
(2004), Viola's large-scale video installation that depicts a group of people from diverse races overtaken by a sudden rush of water, huddling together for stability and helping those who have fallen. Such a message resonates powerfully in today's society, where the need for mutual solidarity and cooperation among the global community has grown more imperative than ever in the face of a global pandemic.
Also introduced in the exhibition are works that display the artist's interest in various natural elements such as water, fire, and light.
Five Angels for Millennium
(2001), which utilizes his signature slow-motion technique, and
The Reflecting Pool
(1977-1979), which employs various technical strategies including mirroring and overlapping, both feature water as a central motif, symbolizing vitality and purification for a new life. Presented across a diptych of two screens mounted side by side in a dark room is
Night Vigil
(2004-2005), in which light and darkness serve as a reference to human desire, as well as a potent allegory of true love.
The exhibition is accompanied by a publication, which brings together selections from Viola's writings alongside texts written by those who had a significant influence on his work. This includes: the 13th century Persian poet Jalāl ad-Dīn Muhammad Rūmī, Romanticist artist and writer William Blake, and contemporary media artist Peter Campus. Available in both English and German, the publication can be purchased on the
museum's website
.
빌 비올라, 잘츠부르크 현대미술관에서 대규모 개인전 개최
비디오 아트의 거장 빌 비올라의 개인전 《Bill Viola》가 잘츠부르크 현대미술관(Museum der Moderne Salzburg)에서 오는 10월 30일까지 열린다. 이번 전시는 작가가 오스트리아에서 처음 선보이는 대규모 개인전으로, 지난 50여 년 동안 삶과 죽음을 둘러싼 근원적이고 존재론적인 주제를 탐구해온 그의 작업세계를 망라한다.
빌 비올라는 1970년대부터 비디오라는 매체가 가진 예술적 가능성을 꾸준히 실험하며 인간의 육체와 영성을 탐구하는 작업을 선보여왔다. 강렬하고 파격적이면서도 희망과 연대의 메시지를 기반으로 하는 그의 예술은 급격한 변화와 불확실성이 대두되는 오늘날 더욱 특별한 의미를 갖는다. 예컨대 전시에 선보이는 대형 비디오 작업 〈The Raft〉(2004)에서는 다양한 인종들의 군상 위로 폭우가 쏟아지는데, 이에 사람들은 서로를 끌어안아 지탱하고, 넘어진 사람들을 도와 일으켜 세운다. 이는 전지구적 재난 속 상호 연대와 협력이 더욱 중시되는 오늘날의 현실과도 긴밀히 맞닿아 있다.
이외에도 물, 불, 빛 등 다양한 자연적 요소에 대한 작가의 관심을 보여주는 작품이 전시된다. 작가 특유의 슬로 모션 기법을 활용한 〈밀레니엄을 위한 다섯 천사〉(2001)와 미러링과 오버랩 등 다양한 기술적 효과가 강조되는 〈투영하는 연못〉(1977-1979)은 모두 '물'을 주요 소재로 한 작품으로, 비올라의 작업세계에서 생명력과 정화를 상징하는 물의 기능을 조명한다. 한편 어두운 공간 속 나란히 설치된 두 개의 스크린에 펼쳐지는 〈밤의 기도〉(2004–2005)는 빛과 어둠을 통해 인간의 욕망, 나아가 진실한 사랑의 알레고리를 나타낸다.
전시를 기념해 작가가 직접 쓴 글과 함께 13세기 페르시아 시인 루미(Jalāl ad-Dīn Mohammad Rūmī), 낭만주의 예술가 윌리엄 블레이크(William Blake), 동시대 미디어 아티스트 피터 캠퍼스(Peter Campus) 등 작가의 작업세계에 주요한 영향을 준 인물들의 글을 종합한 책이 출간되었으며,
미술관 홈페이지
에서 영어와 독일어로 만날 수 있다.
[Source from Museum der Moderne Salzburg press release]