Chung Sang-Hwa | Media Coverage | KUKJE GALLERY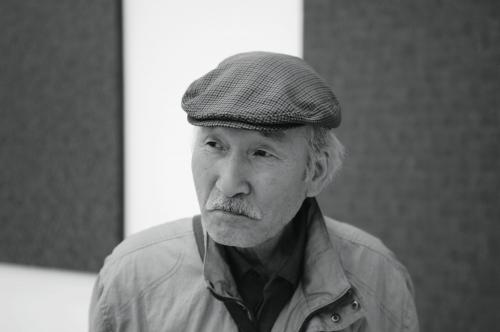 Chung Sang-Hwa (b. 1932)
© Chung Sang-Hwa
Photo: Yves Bresson, Le Muse?e d'Art Moderne Saint-Etienne Me?tropole
Image provided by Kukje Gallery

Chung Sang-Hwa's work uses the physicality of materials and emphasizes repetition as a basic rule that follows an identical repetitive process. The artist composes a base layer with zinc primer on canvas then folds the dry canvas at regular intervals and removes the fragments of paint from the cracked lines, subsequently filling these voids with acrylic paint. These cracked lines along the canvas create a unique void that allows the audience to see through the layers, past their characteristic depths and into the spiritual essence of the work, thereby realizing a space for healing within the canvas.
Having lived in Paris and Japan after completing his studies at Seoul National University, Chung Sang-Hwa's work is internationally recognized beyond his native Korea. The artist was the subject of a major restrospective at the Musée d'Art Moderne de Saint-Étienne Métropole in 2011. He has also been widely exhibited in group exhibitions including When Process becomes Form: Dansaekhwa and Korean Abstraction in collaboration with the Boghossian Foundation, Brussels (2016), Dansaekhwa, an official Collateral Event in the 56th Venice Biennale (2015), Dansaekhwa: Korean Monochrome Painting at the National Museum of Modern and Contemporary Art, Gwacheon (2012), Qi is Full, the inaugural exhibition of Daegu Art Museum (2011), A Look at Contemporary Art at Wooyang Museum of Contemporary Art, Gyeongju (2009), Voyage Sentimental, MEDITATIONS Biennale, Pozna? (2008), Korean Monochromism: Methods, Ideas and Spirits at the Busan Museum of Art (1998), the 12th Bienal de São Paulo (1973), and the 9th Bienal de São Paulo (1967).

정상화의 작품은 매체의 물성을 활용, 철저한 규칙에 따라 동일한 과정을 되풀이하는 반복의 중요성을 강조한다. 그의 작업은 고령토를 캔버스에 발라 초벌을 완성한 후, 캔버스를 규칙적인 간격으로 접어 균열을 만들고, 갈라진 경계를 따라 고령토를 떼어내어 얻은 움푹한 빈 공간을 아크릴 물감으로 메우는 방식으로 진행된다. 그 결과 캔버스의 균열을 따라 본질을 꿰뚫는 듯한 독특한 공간이 형성되는데, 작가는 이 균열을 특유의 멋과 깊이로 치환하는 동시에 작품 속 치유의 공간을 구현한다.
정상화는 한국뿐 아니라 프랑스와 일본에도 널리 알려져 있다. 2011년 프랑스 생테티엔 메트로폴 현대미술관에서 대규모 회고전을 가졌으며, 최근 전시로는 2016년 벨기에 보고시안 재단에서 연 《과정이 형태가 될 때: 단색화와 한국 추상미술》 특별전, 2015년 제56회 베니스 비엔날레의 병행전시로 열린 《단색화》전, 2012년 국립현대미술관 《한국의 단색화》전, 2011년 대구미술관 개관전 《기가 차다》전, 2009년 경주 아트선재미술관 《현대미술의 단면》전, 2008년 폴란드 포즈난의 미디에이션 비엔날레, 1998년 부산 시립미술관 《한국단색회화의 이념과 정신》전, 1973년 제12회 상파울루 비엔날레, 1967년 제9회 상파울루 비엔날레 등이 있다.
BIOGRAPHY
Chung Sang-Hwa
Born in 1932, Youngduck, Korea
Lives and works in Seoul and Yeoju, Korea
Education
1956 B.F.A in Painting, College of Fine Arts, Seoul National University, Seoul, Korea
Selected Solo Exhibitions
2021
The National Museum of Modern and Contemporary Art, Seoul, Korea

2020
Excavations, 1964–78, Lévy Gorvy, London, UK

2019
Excavations, 1964–78, Lévy Gorvy, New York, US

2018
Berggruen Gallery, San Francisco, US

2017
Lévy Gorvy, London, UK

2016
Dominique Levy, New York, US
Greene Naftali, New York, US

2014
Gallery Hyundai, Seoul, Korea

2013
Wooson Gallery, Daegu, Korea

2011
Musee d'Art Moderne de Saint-Etienne Metropole, Saint-Etienne, France
Gallery Hyundai, Seoul, Korea

2009
Gallery Hyundai, Seoul, Korea

2008
Gallery Jean Fournier, Paris, France

2007
Gallery Hyundai, Seoul, Korea
Gallery Hakgojae, Seoul, Korea

1998
Won Gallery, Seoul, Korea

1994
Kasahara Gallery, Osaka, Japan

1992
Shirota Gallery, Tokyo, Japan
Gallery Hyundai, Seoul, Korea

1991
Ueda Gallery, Tokyo, Japan

1990
Kasahara Gallery, Osaka, Japan

1989
Gallery Hyundai, Seoul, Korea
Dorothea Van Der Koelen, Mainz, Germany

1986
Gallery Hyundai, Seoul, Korea

1983
Gallery Hyundai, Seoul, Korea
Ueda Gallery, Tokyo, Japan

1982
Korean Culture Institute, Paris, France

1980
Bergheim Culture Institute, Bergheim, Germany

1977
Motomachi Gallery, Osaka, Japan
Coco Gallery, Kyoto, Japan

1973
Muramatsu Gallery, Osaka, Japan
Shinanobashi Gallery, Osaka, Japan

1972
Mudo Gallery, Tokyo, Japan

1971
Motomachi Gallery, Kobe, Japan

1969
Shinanobashi Gallery, Osaka, Japan

1968
Jean Camion Gallery, Paris, France

1967
Press Center Institute Gallery, Seoul, Korea

1962
Central Information Institute Gallery, Seoul, Korea
Selected Group Exhibitions
2021
Resonance, Horim Museum, Seoul, Korea

2018
Chung Sang-Hwa & Shin Sung Hy, Blum and Poe, Los Angeles, US
Korean Abstract Art: Kim Whanki and Dansaekhwa, Powerlong Museum, Shanghai, China

2017
Arts of Korea, a Celebration of Its Historic Collection, Brooklyn Museum, New York, US
Looking into Korean Art, Part 2: Dansaekhwa, Museum SAN, Wonju, Korea
Rhythm in Monochrome: Korean Abstract Painting, Tokyo Opera City Art Gallery, Tokyo, Japan

2016
When Process Becomes Form: Dansaekhwa and Korean Abstraction, Villa Empain, Boghossian Foundation, Brussels, Belgium
Dansaekhwa and Minimalism, Blum and Poe, LA/New York, US
Dansaekhwa: The Adventure of Korean Monochrome from the 1970s to Today, Domaine de Kerguéhennec, Bignan, France
After Drawing, Gallery Hyundai, Seoul, Korea

2015
Dansaekhwa, Palazzo Contarini-Polignac, Venice, Italy
Avant Garde Asia: Lines of Korean Masters, Sotheby's Hong Kong Gallery, Hong Kong
Korean abstract painting - 45th Anniversary of GALLERY HYUNDAI, Gallery Hyundai, Seoul, Korea
MMCA collection highlights: Untitled, The National Museum of Modern and Contemporary Art, Gwacheon, Korea
Seoul – Paris – Seoul, Mesee Cernuchi, Paris, France

2014
The Art of Dansaekhwa, Kukje Gallery, Seoul, Korea
From All Sides: Tansaekhwa on Abstraction, Blum & Poe, Los Angeles, US
Beyond and Between, Leeum, Samsung Museum of Art, Seoul, Korea

2013
Korean Contemporary Art from 60s, 70s, Gallery Hyundai, Seoul, Korea

2012
Korean Monochrome Painting, National Museum of Modern and Contemporary Art, Gwacheon, Korea
YEULLIM, Migo Gallery, Busan, Korea
Mysterious Art Works, Shiga Museum of Modern Art, Otsu, Japan

2011
Monochrome Painting, Gonggan Purple, Paju, Korea
Beyond the Blue, Gallery Hyundai, Seoul, Korea
A Brush Stroke, Gallery Hakgojae, Seoul, Korea
Qi is Full, The Opening Exhibition of Daegu Art Museum, Daegu, Korea

2009
A Look at Contemporary Art, Artsonje Museum, Gyeongju, Korea

2008
Voyage Sentimental, Mediations Biennale, Poznan, Poland
Korean Abstract Art 1958-2008, Seoul Museum of Art, Seoul, Korea

2007
Void-in Korean Art, Leeum, Samsung Museum of Art, Seoul, Korea
Poetry in Motion, Galerie Beyeler, Basel, Switzerland

2005
Korean Contemporary Art Exhibition, Busan Museum of Modern Art, Busan, Korea
New Painting of Masters, Gallery Bhak, Seoul, Korea

2004
Korea's Two-dimensional Painting Yesterday and Today, Seoul Museum of Art, Seoul, Korea
Why not Live for Art?, Tokyo Opera City Art Gallery, Tokyo, Japan

2002
Age of Philosophy and Aesthetics, National Museum of Contemporary Art, Korea
Understanding Abstract Arts, Sungkok Art Museum, Seoul, Korea

2000
The Source of Contemporary Korean Art, National Museum of Contemporary Art, Gwacheon, Korea
The Facet of Korean and Japanese Contemporary Art, Gwangju Biennale, Korea
Joseon White Porcelain and Contemporary Art, Park Ryu-sook Gallery, Seoul, Korea

1998
Korean Monochromism: Methods, Ideas and Spirits, Busan Museum of Modern Art, Busan, Korea

1997
The 5th Nicaf Tokyo 97, Shinhowonjung Gallery, Tokyo, Japan

1996
Korean Abstract Painting Spirit Exhibition, Hoam Art Gallery, Seoul, Korea
Joongang Biennale, Seoul Museum of Art, Seoul, Korea

1992
Contemporary Korean Art Traveling Exhibition, Shimonoseki Museum of Art, Shimonoseki, Japan
1991
25 Artists of Contemporary Art, Gallery Hyundai, Seoul, Korea
5 Artists of Contemporary Art, HanKook Gallery, Seoul, Korea
Korean Contemporary Art Invitation, Art Sonje Museum, Gyeongju, Korea
Korean Modern Painting Circulation Exhibition, The National Museum of Modern Art, Gwacheon, Korea. Traveled to Zagreb and Ljubjana, Cankarjev Dom, Collegium Artisticum, Yogoslavia

1988
Ecole de Seoul, National Museum of Contemporary Art, Seoul, Korea
Korean Modern Painting in the 70's, Walkerhill Art Center, Seoul, Korea
Invitation Exhibition of Contemporary Art, Chosun Daily News Gallery, Seoul
The Seoul Olympic International Contemporary Art, The National Museum of Contemporary Art, Seoul, Korea

1986
Black and White in Art Today, The Museum of Modern Art, Saitama, Japan
Seoul-Paris, Paris National Art Center, Seoul, Paris
Paper + Pencil: Drawing of 13 Artists, Soo Gallery, Seoul, Korea

1985
Contemporary 13 Artists, Paris, France

1984
'84 Contemporary Art Festival, The National Museum of Contemporary Art, Seoul, Korea
Korean Contemporary Art of the 60's, The Informal Outskirts of Walkerhill Art Center, Seoul, Korea
Korean Contemporary Art of the 60's: Paris Biennial, Duson Gallery, Seoul, Korea

1983
Korean Contemporary Art: The Latter Half of the 70's- an Aspect, Metropolitan Art Museum of International Art, Osaka, Japan

1982
Korea Artists Working Abroad, The National Museum of Contemporary Art, Gwacheon, Korea
Work on Paper, lNational Museum of Contemporary Art, Gwacheon, Korea
Cont Faresolle, Grand Palais Museum, Paris, France

1981
Korean Drawing Now, The Brooklyn Museum, New York, US
Korean Artists Staying in France, Korean Culture Center, Paris, France
Drawing of Contemporary Korean Artists, Dongsanbang Gallery, Seoul, Korea
Drawing of Contemporary Korean Artists, Art Core Gallery, Los Angeles, US
Contemporary Korean Artists, Kyoto Museum of Art, Kyoto, Japan

1980
Gallery N.R.A, Pairs, France
Gallery Alain Qudin, Paris, France
The 12th Cagne International Painting Festival, Cagnes-Sur-Mer, France
Salon des Grands et Jaunes d'Aujourd'hui, Grand Palais Museum, Paris, France
Asian Contemporary Art, Fukuoka Art Fair, Fukuoka, Japan

1979
Salon des Grands et Jaunes d'Aujourd'hui, Grand Palais Museum, Paris, France
Ecole de Seoul, Kwan-hoon Gallery, Seoul, Korea
Work on Paper, Jean Art Gallery, Seoul, Korea

1978
New York Art Expo, New York, US
Korean 20 Years Movement, The National Museum of Contemporary Art, Seoul, Korea

1977
Korean Contemporary Artists, The National Museum of Contemporary Art, Seoul, Korea

1976
Contemporary 13 Artists, Kobe Sanchika Town, Kobe, Japan

1975
The 4th Han Setouchi Contemporary Art, Okayama Culture Center, Okayama, Japan
Korea-Japan Art Now, Hyogo-Prefecture Modern Museum, Kobe, Japan

1973
The 12th Biennale de Sao-Paulo, Sao-Paulo, Brazil
The 3rd Hyogo Prefecture Art Festival, Hyogo-Prefecture Modern Museum, Kobe, Japan

1972
The 2nd Hyogo Prefecture Art Festival, Hyoto-Prefecture Modern Museum, Kobe, Japan

1967
The 10th Biennale de Sao-Paulo, Sao-Paulo, Brazil

1966
Contemporary Artists from 6 Far Eastern Countries, Macy's Department Store, New York, US

1965
The 4th Biennale de Paris, Paris, France

1963
Contemporary 4 Young Korean Artists, Lamber Gallery, Paris, France

1962-1964
Actual, Seoul, Korea

1958-1966
Korean Contemporary Artists, Press Center Institute Gallery, Seoul

1958-1961
Contemporary Artist, Korea Association of Modern Artists, Seoul, Korea
Selected Public and Private Collections
The Art Institute of Chicago, Chicago, US
Hirshhorn Museum and Sculpture Garden, Smithsonian Institution, Washington D.C., US
M+, Hong Kong
Guggenheim Abu Dhabi, UAE
The Rachofsky Collection, Dallas, US
Musée d'Art Moderne de Saint-Etienne Metropole, Saint-Etienne, France
National museum of contemporary art, Seoul, Korea
Seoul Museum of Art, Seoul, Korea
Leeum Museum of Art, Seoul, Korea
Busan museum of modern art, Busan, Korea
Gwangju Museum of art, Gwangju, Korea
Museum of Art, Seoul National University, Seoul, Korea
Gyeongnam art museum, Changwon, Korea
Ieyoung Contemporary Art Museum, Seoul, Korea
Museum SAN, Wonju, Korea
Gyeonggido Museum of Art, Ansan, Korea
Art center Nabi (Walkehill museum), Seoul, Korea
Museum of Contemporary Art Tokyo, Japan
Ehime prefectural, Tamagawa modern art museum, Ehime, Japan
Fukuoka Asian Art Museum, Fukuoka, Japan
Fuji Xerox collection, Tokyo, Japan
Ohara museum of art, Okayama, Japan
Shimonosekii Metropolitan Museum of Art, Shimonoseki, Japan
Sizuoka prefectural museum of art, Sizuoka, Japan
Takamatsu Metropolitan Museum of Art, Kagawa, Japan
Tokyo bunkamura, Tokyo, Japan
EXHIBITIONS
ARTWORKS
Untitled 92-6-2
1992
Acrylic on canvas
190 x 260 cm

Untitled
1967
Oil on canvas
116 x 73 cm

Untitled 85-7-18
1985
Acrylic on canvas
130 x 130 cm

Untitled 96-12-5
1996
Acrylic on canvas
150 x 250 cm

Untitled 97-6-23
1997
Acrylic on canvas
258.5 x 193.5 cm
VIDEOS
Installation Video
Opening l Korean Abstract Art: Kim Whanki and Dansaekhwa, Powerlong Museum

Artist Interview
Why Dansaekhwa - Collateral Event of the 56th Venice Biennale
PUBLICATIONS
MEDIA COVERAGE
NEWS