Korean Abstract Art: Kim Whanki and Dansaekhwa | KUKJE GALLERY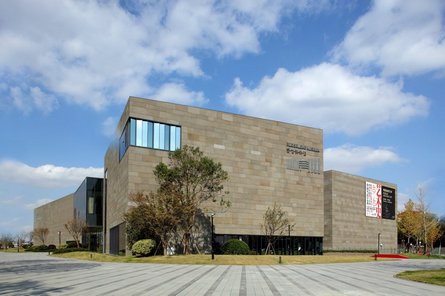 Seoul
권영우(1926-2013)
Untitled
1984
Gouache, Chinese ink on Korean paper
259 x 162 cm
Courtesy the artist's estate and Kukje Gallery

Since the 1960s, Kwon Young-Woo has utilized hanji (Korean paper) as his primary medium, using his bare hands as well as an assortment of tools to cut, tear, and puncture layers of hanji; in this way he directly addresses the tactility of material through his work. Untitled (1984) is a representative work from the 1980s, showcasing a pictorial plane covered with gashes made in a lineal pattern which are then permeated with Chinese ink.

1960년대부터 한지를 매개로 작업한 권영우는 여러 겹 덧바른 한지에 일련의 도구를 이용해 자르고, 찢고, 뚫는 등 물성의 촉각적인 지점을 다룬 작업들을 선보인다. 특히 (1984)은 화면 전체를 일정한 패턴의 반복으로 채워가듯 구멍을 뚫고 선을 만들어 염료를 흘린 1980년대 작업의 대표작이다.

정창섭(1927-2011)
Tak 89029
1989
Tak(best fiber) on canvas
142 x 82 cm
Courtesy the artist's estate and Kukje Gallery

On display is a series of works by Chung Chang-Sup including Tak 89029 (1989), in which the artist molds wet tak, the base material for hanji, into a base relief for his paintings. After soaking it in water, he subsequently spreads and arranges the paste onto the canvas, creating compelling abstract compositions. Chung began to utilize hanji as his primary medium in the 1970s and slowly evolved his practice from the 1990s, steadfastly maintaining his focus on material experimentation, physicality, and alchemy.

정창섭은 한지의 원료인 닥을 물에 불린 후 주무르거나 반죽하는 과정을 거쳐 캔버스 위에 올린 닥의 반죽을 손으로 펴고 매만져 접합시킨 작품 (1989) 등을 선보인다. 1970년대 전후 한지를 주 재료로 활용한 후, 1990년대 이후 변화를 거듭하는 와중에도 꾸준히 물질과 자아를 탐구해온 작가의 변천사를 볼 수 있다.

박서보(b. 1931)
Écriture (描法) No. 18-81
1981
Pencil and oil on canvas
182 x 227 cm
Courtesy the artist and Kukje Gallery

The exhibition also displays works from distinct periods of Park Seo-Bo's practice, including works from his early Écriture series such as Écriture (描法) No. 18-81 (1981). This work is composed of a repetitive process of drawing lines with a pencil on a canvas saturated with oil paint. These early pencil works will be juxtaposed with other strains of work from the 1980s, where Park utilizes his hands and tools to create straight lines and geometric forms on multiple layers of hanji soaked in water for a prolonged period of time.

박서보의 작품 중 채색된 캔버스 위에 연필로 선을 긋는 반복적인 행위가 두드러지는 전기 '묘법' 연작 (1981) 이외에도 캔버스 위에 장시간 물에 담근 한지를 겹겹이 올린 후 손과 도구를 이용해 수직선과 기하학적 도형을 만든 1980년대의 작업 등 다양한 시기의 작품들이 전시된다.

정상화(b. 1932)
Untitled 96-12-5
1996
Acrylic on canvas
150 x 250 cm
Courtesy the artist and Kukje Gallery

Chung Sang-Hwa's signature work, Untitled 96-12-5 (1996), features a unique process wherein the artist applies and then carefully folds and removes a dense layer of paint that is a mix of kaolin and glue. This process creates an allover pattern consisting of small quadrilaterals and triangles. The work will be displayed alongside other works from Chung's practice that explore the meticulous calculation and strenuous execution behind the repetitive action of folding and painting.

정상화의 대표작 (1996)는 고령토와 접착제로 혼합된 두툼한 물감층을 뜯어내 마티에르의 느낌을 증폭시키며 네모꼴의 모자이크로 캔버스 화면을 가득 채운 작품이다. 창작 과정 중 접고, 채워 넣는 반복적인 행위가 정확한 계산과 고도의 실천력이 요구되는 작업임을 시사하는 다른 작품들도 함께 소개된다.

하종현(b. 1935)
Conjunction 96-050
1996
Oil on hemp cloth
194 x 260 cm
Courtesy the artist and Kukje Gallery

Ha Chong-Hyun is widely renowned for his technique of pushing thick oil paint from the obverse side of the canvas, thereby incorporating chance into his abstract compositions. Ha will showcase a diverse range of works from his trademark Conjunction series including Conjunction 92-45 (1992). Ha's unique process has evolved since the 1970s when he began using found pieces of burlap that were originally used to transport food aid from the U.S. military following the Korean War. Pushing paint through the weave of the fabric, Ha imbues materiality and energy onto the composition, balancing abstraction with gesture.

캔버스의 뒷면에서 앞면으로 물감을 밀어내는 배압(背押)법으로 작업하는 하종현은 '접합' 연작 (1992) 등 다양한 작품을 선보인다. 1970년대부터 군량미의 포대자루를 활용한 배압법을 독창적인 작업 방식으로 구축한 하종현은 현재까지도 물성과 에너지 넘치는 화면을 구성하고 있다.

이우환(b. 1936)
From Line (No. 800152)
1980
Oil and mineral pigment on canvas
129.5 x 162.2 cm
Courtesy the artist and Kukje Gallery

Lee Ufan is regarded as an influential figure in both Dansaekhwa and Mono-ha. The artist will present paintings including From Line (No. 800152) (1980) in which he makes a series of repetitive actions, drawing a single line or point over and over again until the pigment is exhausted in each stroke. Along with his signature two-dimensional works, the exhibition also highlights Lee's installation works consisting of steel and river stones such as Relatum – Dialogue (2009) and Relatum – Seem (2009), which also investigate the immanent relationship between natural and industrial materials.

모노화와 단색화 모두에 중요한 영향을 끼친 인물로 평가 받는 이우환은 하나의 선이나 점을 지속적으로 그리는 것과 그림 그리는 행위에 대한 근본적인 연구에서 탄생한 작품 (1980) 등을 선보인다. 특히 이번 전시에서는 평면 작업뿐 아니라 (2009), (2009) 등 원시적 물질과 인공적 물질 사이의 풍부한 내재 관계를 탐구한 설치 작품도 함께 공개된다.
Installation Video
Opening l Korean Abstract Art: Kim Whanki and Dansaekhwa, Powerlong Museum