Kim Whanki | Media Coverage | KUKJE GALLERY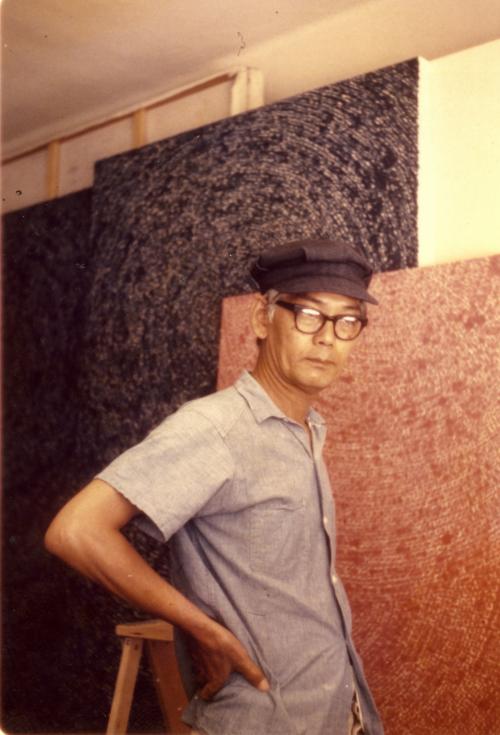 Kim Whanki (1913–1974)
ⓒ Whanki Foundation • Whanki Museum
Photo: Eric Politzer
Image provided by Kukje Gallery

Widely respected as a prominent figure among the first generation of Korean abstract artists, Kim Whanki pioneered one of the most radical art movements in Korea in the late 1930s that is known today as Korean abstract art. Having worked between Paris and Seoul in the 1950s, Kim constructed his signature practice that was founded on the visual lyricism incorporating uniquely Korean motifs with modern and abstract aesthetical canons; his early choice subjects included ceramics, the ten traditional symbols of longevity (which includes rocks, water, clouds, sun, pine trees, turtles, deer, cranes, bamboo, and fungus), and plum blossoms, then later utilized elements from nature such as the mountain, the river, and the moon. Kim's artistic career reached its culmination during his New York period, which began when the artist received an Honorary Award at the 7th Bienal de São Paulo in 1963 and continued until his passing in 1974 in New York. While Kim's work until the end of the 1950s demonstrates a decidedly Korean sensibility communicated in a highly refined and condensed manner, his practice during the New York period in the 1960s shifted to focus on expressing a more universal, nuanced world of the inner mind coupled with the basic formative elements of point, line, and plane.
Kim Whanki's major solo exhibitions include a comprehensive retrospective titled Kim Whanki at Daegu Art Museum (2018) and The 10th Anniversary Exhibition of the Death of Kim Whanki at the National Museum of Modern and Contemporary Art, Seoul (1984). He has also been widely exhibited in group exhibitions including New Acquisitions 2013~16 Samramansang: from KIM Whanki to YANG Fudong at the National Museum of Modern and Contemporary Art, Seoul (2017), When Process becomes Form: Dansaekhwa and Korean Abstraction in collaboration with the Boghossian Foundation, Brussels (2016), the 8th Bienal de São Paulo (1965), and the 7th Bienal de São Paulo (1963).

한국 추상주의의 1세대인 김환기는 1930년대 말부터 급진적인 미술 운동 중 하나인 추상미술을 개척하며 한국 현대미술의 흐름을 주도한 대표 작가다. 1950년대에 파리와 서울에 머물던 그는 한국적인 모티브에 근간을 둔 동시에 현대적이고 추상적인 아름다움에 심취해 서정적인 작품세계를 확립하였다. 여기에는 도자기, 십장생 상징, 매화 등이 포함되며, 이후에는 산, 달, 강 같은 자연적인 요소들이 출현했다.
김환기의 창작 활동은 그가 제7회 상파울루 비엔날레에서 회화부문 명예상을 수상한 1963년부터 타지에서 숨을 거둔 1974년까지의 뉴욕 체류 시기에 특히 정점에 이르렀다. 1950년대까지는 작품을 통해 절제되고 집약된 형식으로 한국적인 정서를 표현했다면, 뉴욕 체류 시기인 1960년대에는 점, 선, 공간과 같은 기본 형태적 요소를 이용해 작품세계를 한층 더 보편적인 동시에 궁극의 단계로 끌어올렸다.
김환기의 작품은 2018년 대구미술관에서 대규모 회고전을, 1984년 국립현대미술관에서 《김환기 10주기 기념전》을 통해 선보였으며, 2017년 국립현대미술관 《신소장품 2013~16 삼라만상: 김환기에서 양푸동까지》전, 2016년 벨기에 보고시안 재단에서 연 《과정이 형태가 될 때: 단색화와 한국 추상미술》 특별전, 1965년, 제8회 상파울루 비엔날레, 1963년 제7회 상파울루 비엔날레 등을 통해 소개되었다.
BIOGRAPHY
Biography
1913
Born in Shinan, Jeollanam-do, Korea

1933-36
Graduated from Nihon University, Fine Arts Department in Japan

1946-48
Taught at Fine Arts Department, Seoul National University in Seoul

1959-62
Taught at Fine Arts Department, Hongik University in Seoul

1960
Elected as the President of the National Federation of Arts in Seoul

1963
Elected as the President of the Fine Arts Association of Korea


Selected Solo Exhibitions
2018
Kim Whanki, Daegue Art Museum, Daegue, Korea
Whanki's Works on Paper, Whanki Museum, Seoul, Korea

2017
The Aesthetics of Colors, Whanki Museum, Seoul, Korea
The lines that I draw could reach to the end of the sky, Whanki Museum, Seoul, Korea

2016
The Man is gone and the Art has remained, Whanki Museum, Seoul, Korea

2015
KIM WHANKI LINE • SURFACE • DOT, Gallery Hyundai, Seoul, Korea

2014
The Centennial Celebration of Kim Whanki's Birth II, Whanki Museum, Seoul, Korea

2013
Kim Whanki: Works on Paper, Gallery Hyundai, Seoul, Korea

2012
Gallery Hyundai, Seoul, Korea

2004
The 30th Anniversary Exhibition of the Death of Whanki, Whanki Museum, Seoul, Korea

1999
The 25th Anniversary Exhibition of the Death of Whanki, Whanki Museum, Seoul, Korea
The 25th Anniversary Exhibition of the Death of Whanki, Gallery Hyundai, Seoul, Korea
The 25th Anniversary Exhibition of the Death of Whanki, Won Gallery, Seoul, Korea

1991
KIM Whanki: New York 1966-69 91', Gallery Hyundai, Seoul, Korea

1984
The 10th Anniversary Exhibition of the Death of Whanki, National Museum of Contemporary Art, Seoul, Korea

1974
Barnwell Art Center, Shreveport, LS

1971
Poindexter Gallery, New York, NY

1966
Tasca Gallery, New York, NY

1964
Asiana House, New York, NY

1963
National Information Center Gallery, Seoul, Korea

1959
Ban Do Gallery, Seoul, Korea
National Information Center Gallery, Seoul, Korea

1958
L'Institute Gallery, Paris, France

1957
M.Benezit Gallery, Paris, France
Cheval de Verre Gallery, Brussels, Belgium
Muratore Gallery, Nice, France

1956
M.Benezit Gallery, Paris, France

1954
U.S.I.S Gallery, Seoul, Korea

Selected Group Exhibitions
2017
Ode to Forgetting, Nam-Seoul Museum of Art (SeMA), Seoul, Korea
Rhythm in Monochrome: Korean Abstract Painting, Tokyo Opera City Art Gallery, Japan
New Acquisitions 2013~16 Samramansang:from Kim Whanki to Yang Fudong, National Museum of Modern and Contemporary Art (MMCA), Seoul, Korea

2016
When Process Becomes Form: Dansaekhwa and Korean Abstraction, Villa Empain, Boghossian Foundation, Brussels, Belgium
After Drawing, Gallery Hyundai, Seoul, Korea

2015
Korean Abstract Painting- 45th Anniversary of Gallery Hyundai, Gallery Hyundai, Seoul Korea

2014
The Artistic Spirits of Modern Artists on Paper, Gallery Hyundai, Seoul, Korea

2011
靑-Beyond the Blue, Gallery Hyundai, Seoul, Korea

2010
In the Midst of the Korean Contemporary Art, Gallery Hyundai, Seoul, Korea

2009
Artists and Moon Jar, Gallery Hyundai, Seoul, Korea

2008
The First Generation of Korean Abstract Art: KIM Whanki · YOO Young Kuk, Gallery Hyundai, Seoul, Korea

2007
Poetry in Motion, Gallery Hyundai, Seoul, Korea

2006
Where, in What Form, Shall We Meet Again, Gallery Hyundai, Seoul, Korea
Kim Whanki (In New York 1963 - 1974) and Yemaek, Gallery Hyundai, Seoul, Korea

2005
Korean Contemporary 20 Artists, Gallery Hyundai, Seoul, Korea

1972
60 Years of Korea Modern Art, National Museum, Seoul, Korea

1965
8th Sao Paolo Bienale, Special Exhibition Room, Sao Paolo Bienal, Sao Paolo, Brazil

1963
7th Sao Paolo Bienale, Sao Paolo Bienal, Sao Paolo, Brazil

1957
Artists in Paris, Monaco, Monaco
TV Montecarlo, Monaco, Monaco

1956
Artists in Paris, Italy

1953
Neo Realists, Temporary gallery of the National Museum of Korea, Busan, Korea

1949
Neo Realists, Tong Hwa Gallery, Seoul, Korea

1937
Liberty Artists Association, Tokyo, Japan

1936
Baik Man Hwoe (White Barbarians), Tokyo, Japan

EXHIBITIONS
VIDEOS
Installation Video
Opening l Korean Abstract Art: Kim Whanki and Dansaekhwa, Powerlong Museum

Artist Interview
Why Dansaekhwa - Collateral Event of the 56th Venice Biennale
PUBLICATIONS
MEDIA COVERAGE
Exhibition: When Process becomes Form: Dansaekhwa and Korean abstraction
Exhibition: Dansaekhwa, Collateral Event of the 56th International Art Exhibition – la Biennale di Venezia
NEWS